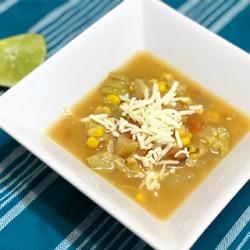 Ingredients
1 tablespoon olive oil
3 tablespoons onion, diced
1 clove of garlic, minced
1 1/2 cups of fresh calabaza squash, zucchini squash or yellow squash
1 cup of corn, canned, low sodium
1 cup of fresh roma tomato, diced
1-2 branches of cilantro
Preparation
Heat the olive ol in a pot over medium heat. Add the onion and garlic and sute for 2 minutes. 
Stir in the squash and corn, stirring a couple of times for 5 minutes. Add the tomatoes and cook for 3 more minutes.
Pour the vegetable of chicken broth and stir.
Once the soup starts to boil, add the cilantro. Reduce heat and let simmer for 8-10 minutes, or until the squash is soft.
Garnish with lime, cilantro, or queso fresco. 
Enjoy!
Source 
https://www.mexicoenmicocina.com/sopa-de-calabacitas-con-elote/
Recipe modified by CHOICES Nutrition Education Program
Download the Recipe/Descargue la receta: