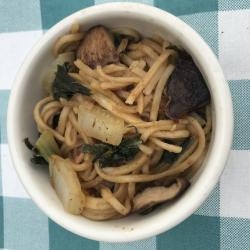 Ingredients
12 ounces lo mein noodles
1 tablespoons vegetable oil
8 ounces shiitake mushrooms or other favorite, stemmed, halved if small or quartered if large
1 lb. baby bok choy, halved and cut into 1-inch pieces (approx. 4.5 cups)
1 tablespoon grated fresh ginger
3 garlic cloves, minced
1.5 tablespoons hoisin sauce
1 tablespoon soy sauce
1 tablespoon sesame oil
1 teaspoon chili-garlic sauce
PREPARATION
Bring 4 quarts water to boil in large pot over high heat. Add noodles to boiling water and cook according to package. Drain noodles and rinse under cold running water.
Heat 1 tablespoon vegetable oil in 12-inch nonstick skillet over medium-high heat until just smoking. Add mushrooms and cook until browned, about 5 minutes. Add bok choy, ginger, garlic, and cook until bok choy begins to soften, about 2 minutes.
Add hoisin, soy sauce, and cooked noodles. Stir to combine, then cook for 2 minutes without stirring to develop light char on noodles. Stir noodles again, then cook for 2 more minutes without stirring. Stir in sesame oil and chili-garlic sauce. Serve.
ADAPTED FROM
Cookscountry.com
Recipe modified by CHOICES Nutrition Education Program
Download the Recipe/Descargue la receta: