Cook Time
20 - 25 minutes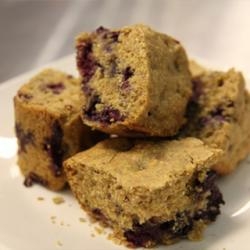 Ingredients
1 ½ cups frozen blueberries (defrosted)
1 cup + 1 teaspoon whole wheat flour, divided
1 cup whole yellow cornmeal
1/3 cup light brown sugar
1 tablespoon baking powder
½ teaspoon salt
1 large egg, lightly beaten
1 cup 1% milk
¼ cup vegetable oil
½ teaspoon vanilla extract
Cooking spray
PREPARATION
Preheat oven to 400°F and grease and 9x13 baking pan or cake pan with the cooking spray. Place pan in the oven while it heats.
Toss defrosted blueberries with 1 teaspoon of flour and set aside.
Combine flour, cornmeal, sugar, baking powder, and salt in a large bowl. Stir with a whisk to evenly combine ingredients.
In a medium bowl, combine egg, milk, vegetable oil, and vanilla extract. Whisk well.
Add wet ingredients to dry and mix just until dry ingredients are moistened. Gently fold in blueberries. Pour batter into prepared pan and bake for 20-25 minutes or until a wooden pick inserted in the center comes out clean.
NUTRITIONAL INFORMATION PER SERVING
Calories 160, Total Fat 6g, Carbohydrates 25g, Fiber 2g, Protein 3g, Sodium 230mg
SOURCE (OR ADAPTED FROM)
https://spicysouthernkitchen.com/blueberry-cornbread/
Recipe modified by CHOICES Nutrition Education Program
Download the Recipe/Descargue la receta: