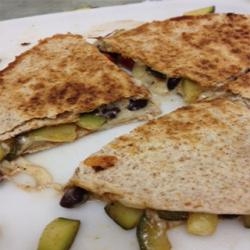 Ingredients
½ cup diced roasted red bell pepper
1 whole zucchini or yellow squash, diced
½ cup canned black beans, drained and rinsed
1 teaspoon ground cumin
Pepper, to taste
Juice of 1 lime
8 (7-inch) whole wheat tortillas
1 cup grated low fat Monterrey Jack cheese
1 tablespoon fresh chopped cilantro
Fat-free cooking spray
PREPARATION
In a small pan, sauté the zucchini in cooking spray until just tender.
In a medium bowl mix roasted red bell peppers, zucchini or squash, and black beans then season with cumin and pepper.
Microwave for 1 to 2 minutes or until warmed. Add the lime juice.
Lay one tortilla in a hot skillet with cooking spray. Add ½ cup filling and ¼ cup grated cheese and ¼ of the cilantro. Top with another tortilla and cook for 2 minutes, until the tortilla on bottom is slightly browned. Flip and cook on the other side for 2 minutes or until slightly browned and the cheese has melted.
Repeat with remaining ingredients.
NUTRITIONAL INFORMATION PER SERVING
Calories 240, Total Fat 9g, Carbohydrates 26g, Fiber 3g, Protein 12g, Sodium 520ng, Cholesterol 20mg.
SOURCE (OR ADAPTED FROM)
Vegweb.com
Recipe modified by CHOICES Nutrition Education Program
Download the Recipe/Descargue la receta: