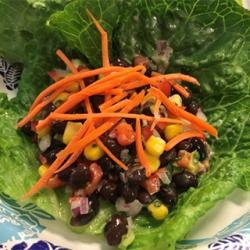 Ingredients
1 cup black beans, no salt added, fresh or can
½ cup red bell pepper, diced
½ cup red onion, diced
½ cup corn, no salt added, fresh, frozen or can
1 tablespoon cilantro, chopped
2 tablespoons green onion, chopped
½ cup shredded carrots
5 romaine lettuce leaves, washed
¼ cup creamy avocado cilantro lime dressing (below)
DRESSING
1 avocado
1 garlic clove, peeled
½ cup cilantro leaves
¼ cup fat free Greek yogurt
1 tablespoon lime juice
¼ teaspoon salt
¼ teaspoon ground black pepper
½ cup water
PREPARATION
Dressing:
Place all dressing ingredients in a food processor or blender.
Process until smooth, stopping to scrape down the sides a few times. Thin the salad dressing out with water until it reaches desired consistency. Keep in airtight container for 1-2 weeks.
Wraps:
Combine black beans, red bell pepper, red onion, cilantro, and green onion. Toss with salad dressing.
Spoon the black bean salad into lettuce leaves. Top with shredded carrots. Serve.
NUTRITIONAL INFORMATION PER SERVING
Calories 100, Total Fat 1.5g, Carbohydrates 18g, Fiber 5g, Protein 5g, Sodium 45mg, Cholesterol 0mg
SOURCE (OR ADAPTED FROM)
What's Cooking? USDA Mixing Bowl and gimmedelicious.com
Recipe modified by CHOICES Nutrition Education Program
Download the Recipe/Descargue la receta: