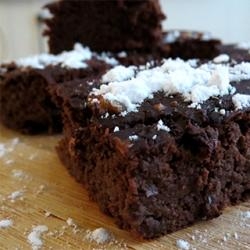 Ingredients
Nonstick cooking spray, for greasing pan
¾ cup canned low-sodium black beans, drained and rinsed*
½ cup vegetable oil or canola oil
1 whole egg + 1 egg white
¼ cup unsweetened cocoa powder
5 tablespoons + 1 teaspoon Splenda
Sugar Blend (or 2/3 cup granulated sugar)
1 teaspoon instant coffee or espresso
1 teaspoon vanilla extract
½ cup mini semi-sweet chocolate chips, divided
1/3 cup whole wheat flour
½ teaspoon baking powder
½ teaspoon salt
¼ cup confectioner's sugar, for dusting (optional)
*If using dried beans, rinse beans and soak them in water over night in the refrigerator. Drain off the water you used to soak the beans and add cold water back to them. Use a ratio of 1:3, so if you have 2 cups of beans, use 6 cups of water. Bring the beans to a boil and then reduce them down to a very slow simmer for 1-1 ½  hours. Now your beans are ready to use in any way you see fit. One 15-oz can of beans equals 1 ½ cups cooked beans.
PREPARATION
Preheat the oven to 350 degrees F.  Grease an 8 by 8-inch square baking pan.
In a blender or food processor, puree the beans with the oil.  Add the eggs, cocoa, sugar, coffee, and vanilla.  Melt half the chocolate chips and add to the blender.  Blend on medium-high until smooth.
In a medium bowl, whisk together the flour, baking powder, and salt.  Stir in the remaining chocolate chips.  Add the wet ingredients into the bowl.  Whisk the batter until it is smooth, being careful not to over-mix.  Pour into the prepared pan.
Bake until the surface looks somewhat matte around the edges and still a bit shiny in the middle, about 25 minutes.  Let cool at least 15 minutes before cutting and removing from the pan.  Dust with confectioner's sugar and serve.
NUTRITIONAL INFORMATION PER SERVING
Calories 145, Total Fat 10g, Carbohydrates 13g, Fiber 1g, Protein 2g, Sodium 119mg, Cholesterol 12mg
SOURCE
www.foodnetwork.com
Recipe modified by CHOICES Nutrition Education Program
Download the Recipe/Descargue la receta: