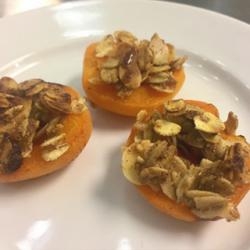 Ingredients
4 apricots halved and pitted (or 1 can apricots in 100% juice)
3 tablespoons old fashioned or quick oats
1 tablespoon nuts chopped
1 tablespoon brown sugar
1/4 teaspoon cinnamon
1/8 teaspoon ground ginger
Pinch of salt
2 teaspoons butter or trans-fat free margarine, melted
PREPARATION
Preheat oven to 425 F. Place apricots cut-side up in baking dish. 
In a small bowl, mix together oats, nuts, brown sugar, and spices. Add  melted butter and mixed until well combined.
Divide oat topping evenly among apricots, mounding on top of each fruit.
Bake until oats are golden and apricots are soft, about 15-20 minutes.
Let cool slightly and serve warm or at room temperature.
SOURCE
Recipe modified by CHOICES Nutrition Education Program
Download the Recipe/Descargue la receta: