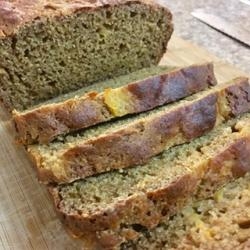 Ingredients
2 cups whole wheat flour
1 ½ teaspoon baking powder
1 ½ teaspoon baking soda
¼ teaspoon ground ginger
¼ teaspoon salt
¼ cup Splenda® Brown Sugar Blend (or ½ cup brown sugar)*
2 eggs
1 teaspoon vanilla extract
¾ cup Greek yogurt
1 -15 oz can apricot halves (diced)
PREPARATION
Preheat oven to 350°F
Sift together the flour, baking powder, baking soda, ginger, salt and set aside.
In a medium bowl beat sugar, eggs, vanilla and gently mix in the yogurt.
Stir in the dry ingredients and fold in apricot chunks. Scrape the side of the bowl, making sure that all ingredients are well-blended but do not overmix.
Pour the batter into a nonstick loaf pan and bake for 50 minutes or until fully cooked. 
SOURCE
http://www.theironyou.com/2013/07/skinny-apricot-loaf-cake.html
Recipe modified by CHOICES Nutrition Education Program 
Download the Recipe/Descargue la receta: