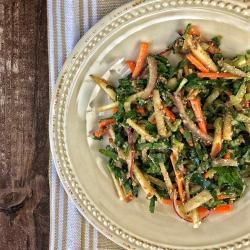 Ingredients
SALAD:
6 cups of bok choy, leaves and stems sliced thinly
1 large apple, shredded
1 large carrot, shredded
½ cup red onion, thinly sliced
DRESSING:
½ cup unsweetened soy milk
½ cup unsalted whole cashews
¼ cup balsamic vinegar
¼ cup raisins
1 teaspoon Dijon mustard
PREPARATION
Combine bok choy, apple, carrot and onion in a large bowl.
Blend milk, cashews, vinegar, raisins and mustard in a blender or food processor. Add desired amount to salad.
SOURCE
https://www.epicurious.com
Recipe modified by CHOICES Nutrition Education Program
Download the Recipe/Descargue la receta: