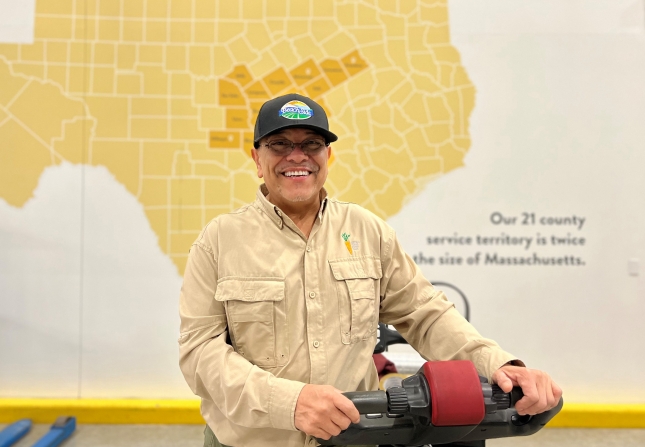 Art Perez (he/him) is the Central Texas Food Bank's longest-tenured team member, with over 16 years of experience under his belt. He has held various positions at the Food Bank, running Mobile Pantries and selecting orders, and currently serves as a Warehouse Associate. "I like to be on my feet," he says.
Growing up in San Diego, Texas, Art caught on to working with food by watching his father work in food service. Art has enjoyed gardening since he was little and grew carrots and corn in his parent's yard. Now, a longtime Austinite, he keeps up the hobby by growing avocados in potted soil at his apartment.
When Art joined the Central Texas Food Bank--then known as the Capital Area Food Bank--in 2006, the focus of the organization was shifting towards advocacy and directly addressing the root causes of hunger in the community. Years later, Art has watched us grow into a refreshed name and brand, move into new facilities, provide more impactful direct service programs, and swing into action during COVID-19 and winter storm emergencies. Art is optimistic about recent innovations here at the Food Bank. "A lot has changed over the past year, but we're headed in the right direction. I like the rotation of food I'm seeing, and the new processes work well," he says .
As a Warehouse Associate, Art is responsible for receiving, inventorying and shipping products. Daily, he rotates stock, inspects food boxes, and prepares orders for our Partner Agencies. Service above self is a philosophy that Art embodies every day by taking on extra work and assisting his team at a moment's notice. "I can help anybody that needs help," he shares. Art enjoys training new hires and is an excellent source of knowledge for his colleagues. "His selfless devotion to meet the needs of the community while helping his fellow warehouse workers is a great example of teamwork and compassion," says Warehouse Manager Jose Zamora.
Art has marked his years at the Food Bank by collecting t-shirts from two of his favorite annual Food Bank fundraising events, Austin Reggae Festival and The Austin Chronicle Hot Sauce Festival. He's turned the wild t-shirt designs into quilted blankets and joked that he would consider retiring once he adds a few more rows.
Art Perez was celebrated as CTFB's November 2022 Team Member of the Month.