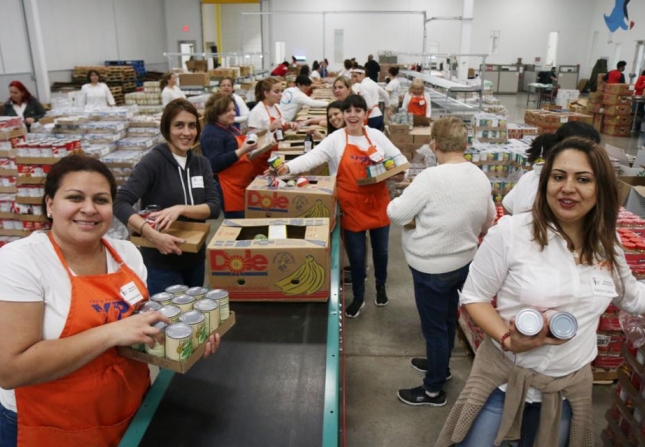 "Everybody can be great ... because anybody can serve."
-Dr. Martin Luther King, Jr.
During our Day of Service to celebrate the legacy of Dr. Martin Luther King Jr., volunteers packed the Food Bank to bring Dr. King's words to life.
New volunteers and recurring volunteers worked together to help us serve our community. For some, MLK Day was just the right time to volunteer for their first time.
Employees from Young Peoples Workshop (YPW) arrived with orange aprons ready to get to work. They filled each table from the start of the conveyor belt to the palletizing end. For many there, it was their first time ever to volunteer.
Maria Hernandez, a YPW employee was excited to give back for the first time.
"It's something different for many of us. It's my first time volunteering.  It's exciting," Maria said. "It's good because I know that when people receive the food, they won't know that it's me who sent it, but God will know that I helped out."
Working on the other side of the conveyor belt was the Austin chapter of Delta Sigma Theta Sorority, Inc.
Year after year, the sorority volunteers during MLK Day. For the past two years, they have celebrated MLK Day by volunteering at the Food Bank.
"Each MLK Day, we're coming out to actually do as Martin Luther King thought of this day to be a day of service in our community," Delta Sigma Theta Austin Chapter President Lisa Newman said.
While 30 members volunteered in our warehouse, the senior members who weren't able to lift heavy boxes were able to participate in our thank-a-thon by calling donors to thank them for their Food Bank contributions.
With the government shutdown affecting some of the sorority members, the group wanted to help the Food Bank make an impact on others.
"It's been great for us to come here, the music is a motivator, the staff is always friendly, the place is always clean and accessible. It's is a great opportunity to partner with this organization," Lisa said.
We can't thank our volunteers enough for helping us celebrate Dr. Martin Luther King Jr., who passionately served others and fought for justice and equality. Special thanks to Austin Title, Briggs Equipment, Texas Mutual Insurance Company and Rackspace for helping us fight hunger during our Week of Service. 
"Food insecurity in America should just be something that should be abolished, so we're working hard and personally it means a lot to know that I have a part in doing that for the community," Lisa said.