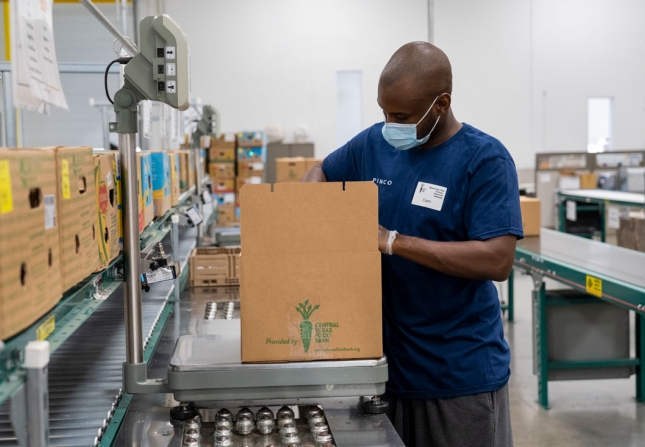 Summers are tough for Central Texans in need. Childcare and rising utility costs along with the ongoing effects of the pandemic have strained families' budgets to the breaking point. At the Food Bank, we're working around the clock to help meet the need, but we couldn't do it without help from our community.
This summer, volunteers stepped up to help us serve our neighbors who need it the most. More than 3,300 volunteers donated more than 21,300 hours of their time to ensure families had food on the table. From volunteering in our garden, to our Mobile Pantries, to helping out in the kitchen and preparing food for distribution in our warehouse, our volunteers' support has been overwhelming.
To help families ensure kids didn't miss any meals they usually eat at school, our kitchen staff ramps up our kids meal production to fight kids' summer hunger. Huge thanks to volunteers who helped us out in the kitchen—preparing weekly meal packs for our kids' distributions. 
Due to COVID-19, our distribution sites for this program were a hybrid of weekly meal to-go packs in a drive-thru setting and in-person meals. We were able to distribute at 41 sites in Travis, Williamson and Bastrop counties. With the support of our volunteers, we distributed more than 85,000 meals and nearly 5,000 snacks to approximately 1,400 kids in our service territory. This wouldn't have been possible without our amazing volunteers.
While pots stirred and meals were packed in the kitchen, other volunteers headed out to our Mobile Pantry sites. With 49 Mobile Pantry distributions across Central Texas each month, our volunteers were essential to helping ensure our distributions ran smoothly—from helping control traffic to placing boxes of food in vehicles. Thanks to our incredible volunteers, this summer we served more than 48,790 individuals at our Mobile Pantries.
As recovery from the pandemic goes on, the Food Bank continues to support families during these challenging times by increasing food access through drive-thru mass distributions. During the summer, volunteers helped at more than 20 mass distributions. With their help, we distributed food to more than 20,600 individuals at our mass distributions. Huge thanks to our volunteers for supporting our COVID-19 relief efforts.
We wouldn't be able to distribute food without the incredible force of our warehouse. During the summer, 4,460 warehouse volunteers helped inspect, sort and pack food for our distributions and network of nearly 300 partner pantries. Without their help, we wouldn't be able to get food out the door. Thank you to everyone who volunteered in our warehouse this summer. 
We love our volunteers! When demand rises during the summer, we know we can count on our volunteers to ensure individuals in need have access to nourishing food. Each and every volunteer is essential in our mission to fight hunger. Thank you, volunteers, for all your hard work this summer. We couldn't do it without you.