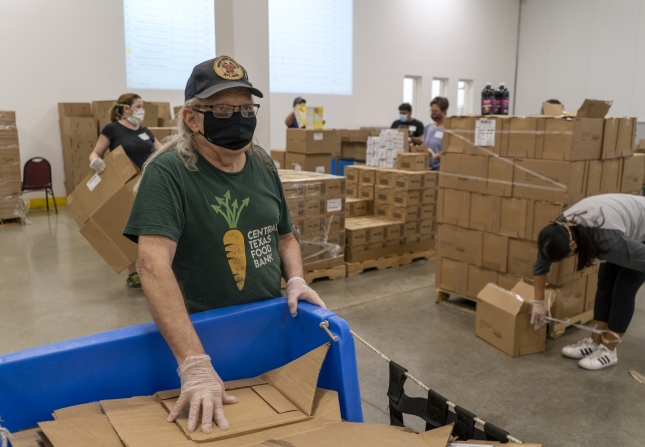 COVID-19 has brought on many changes at the Central Texas Food Bank—in our product recovery warehouse we reduced our volunteer shifts and have taken extra measures to ensure the safety of our staff and volunteers.
The changes are nothing Jim, who has been volunteering with the Food Bank since 2013, can't handle. With extra time on his hands after retiring, Jim wanted to volunteer for the organization he had been financially supporting.
"After I retired I needed something to do and when I'd been working I had been donating money to the Food Bank, so now I donate my time," Jim said.
With his commitment to fighting hunger, it was only a matter of time before he became a "Volunteer Leader".  In his new role, he took on additional volunteer duties, like helping train and answer questions for other volunteers.
 As more families turned to the Food Bank for help, Jim didn't let his age or concerns over the virus deter him from helping our staff when we need it the most. Since the pandemic hit, Jim has been volunteering multiple times a week—more than he usually does. His service has been even more helpful since some of our older volunteer leaders haven't been able to volunteer.
Though he is concerned about the pandemic, he is grateful for all the measures the Food Bank has taken to ensure the safety of volunteers. He feels safe at the Food Bank.
 "A lot of the volunteer leaders are older and I'm coming. I don't think I can stay at the house for three weeks straight," Jim said. "I enjoy it. I like the people I work with, the volunteers are always here and they're excited to go."
We can't thank Jim enough for his dedication to help us feed families in need. He has donated more than 2,823 hours of volunteer service since 2013!
"Jim is a big help to our team, he is always willing to help where ever we may need it. Despite all the issues with the pandemic, he is always here. We do appreciate Jim and thank him for all that he does," Product Recovery Lead Danny Villegas said.
We're so grateful for volunteers like Jim, who have stepped up during this time of need. His experience is invaluable to helping train new volunteers like Carol who answered our call for help.
Carol was a regular volunteer at the public library, but when it closed due to the shelter in place order, she had extra time. She decided to sign up to volunteer at the Food Bank after learning about it on the news. It would be her first time volunteering at the Food Bank.
"It's been great, everyone who works here is super friendly and helpful and they train you for every session…I was nervous as a first timer, so I was like 'what do I have to do' and they are ready for it and they have great preparation and plan for handling distancing and things. I feel good they're on top of it"
She quickly learned that volunteer shifts fill up quickly and has signed up to volunteer a couple of times a week through June.
Additionally, she has gone above and beyond by sewing masks and donating them to the Food Bank for the past few weeks to keep our staff safe.  
 With 39 hours of volunteer service, Carol has been able to work on various projects, including helping us prepare emergency food boxes.
We couldn't meet the demand for help without our regular volunteers and new volunteers who have joined the fight against hunger. Special thanks to all of our volunteers who make it possible to feed thousands of families across Central Texas.