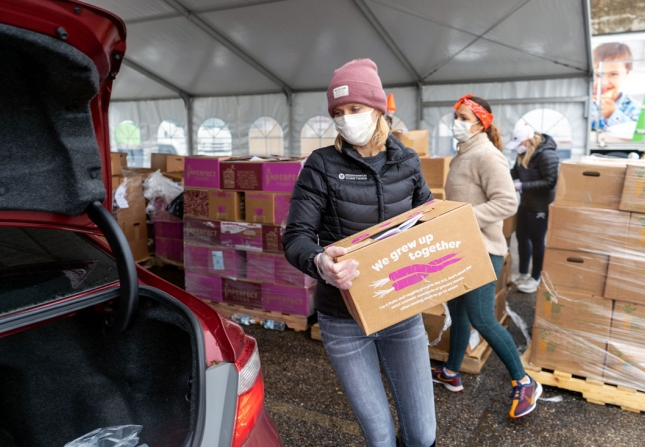 One box after another made its way down the conveyor belt in the Food Bank's warehouse. Each box getting heavier as volunteers added a food item: peanut butter, canned veggies, canned fruit, wheat pasta, tomato sauce, canned protein and more. At the end of the conveyor belt, volunteers were stacking the emergency food boxes to go out to our community during the COVID-19 pandemic.
These past few weeks have been challenging for our community and the Food Bank as we adopt new measures to prevent the spread of the coronavirus.
With each change we have implemented, our volunteers have been with us every step of the way. This Volunteer Appreciation Month, we can't thank our volunteers enough for helping us meet the increased demand for our services.
Prior to the pandemic, our warehouse bustled with up to 80 volunteers three times a day working side-by-side at each table to prepare food for distribution.
As the situation worsened, we immediately took action to keep our volunteers safe by maximizing social distancing. We cut our volunteer shifts to two per day with a maximum of 30 volunteers per shift so that each person had their own table or workstation.
Despite having fewer people per shift, our volunteers have helped us prepare more than 5,500 emergency food boxes for families affected by the pandemic.
Having emergency food boxes allowed us to transition quickly to a drive-thru distribution model to help keep our staff, volunteers and families even safer. Instead of having Mobile Food Pantry volunteers hand out food to clients, all they had to do was load a box of food in a vehicle's trunk.
Thanks to the help of volunteers, we were recently able to serve 1,515 households in three hours during a single Mobile Food Pantry distribution—one of our largest distributions ever!
We rely on our volunteers each day to help feed families in need. Without their help, we wouldn't be able to provide nourishing food to our most vulnerable neighbors. Thank you for standing by our side during this difficult time. You are the heart of the Food Bank!