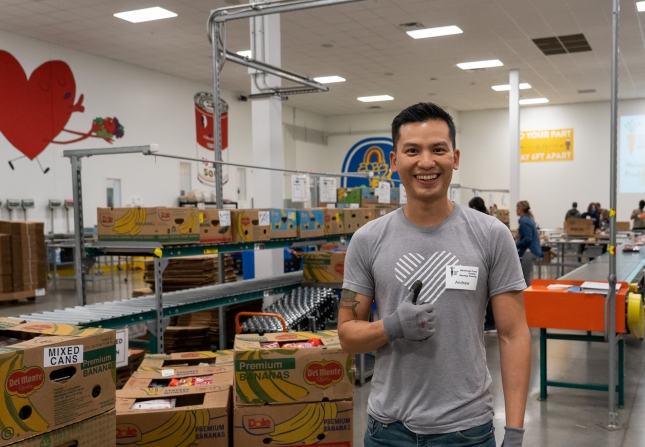 It was about a year ago that Andrew found himself with some free time on his hands, and limited options for volunteering in the midst of a pandemic after the organization he regularly worked with was forced to shut down. At the time, he had been donating funds to the Central Texas Food Bank through his workplace, and he started to think about donating his time as well. "I want[ed] to help out in the community somehow. Food is always a necessity." Thanks to the workplace-matching program his employer offers, he is able to donate either time or money and still have it matched by the company in the form of funds.
While Andrew was new to volunteering at the Food Bank, he was not new to the world of service. Andrew grew up in Georgia, in a family that values service to their community so much that they started their own non-profit to help senior citizens. "I think my family has always been about giving back and helping out the community," Andrew says.
Prior to moving to Austin about five years ago, he lived in New York City for several years where he was also a very active volunteer for Big Brothers Big Sisters and a wildlife rescue organization. However, he couldn't resist the opportunity Austin could offer a young professional in the video game industry. It also spoke to his southern heart, "I grew up in the south…I love the 80-90 degree nights in the summertime, it reminds me of home."
After spending some time getting to know his way around the city, he found his way to the Central Texas Food Bank, working several warehouse shifts and some mobile pantry distributions. As a young professional, Andrew says, "I feel like you guys have a good way to provide social opportunities and also give back at the same time." He not only signs up for shifts to work alone, but often brings a friend or an entire group—such as the Meetup group he's a part of, We Serve Austin, and his Zynga co-workers.
After seeing more of the process during his shifts, Andrew shares that he appreciates the humanitarian effort to help those in need, as well as the sustainability impact of rescuing food that might otherwise not be used. "It's a whole concept of trying to maximize everything we have," Andrew says, which is evident in his own use of time volunteering at the Food Bank, now up to almost 50 hours over the last year! He has no plans to stop, either, and hopes to continue giving back well into post-retirement.
We thank Andrew for his dedication to the cause and all those who have joined him along the way! We're so grateful to you, Andrew!