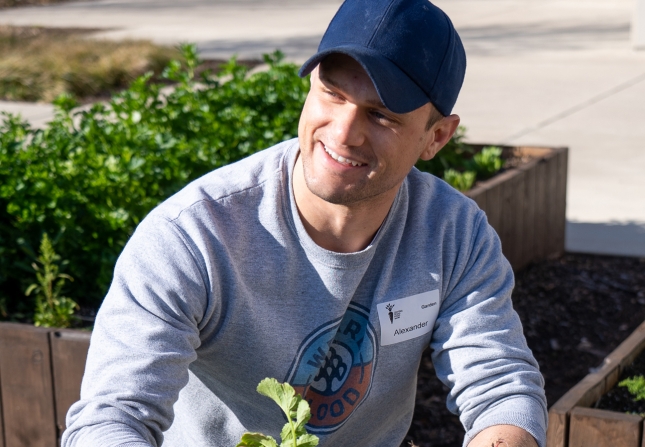 "There are just a few fundamental things that are important to me and one of them is food security," Alex says on what attracted him to volunteer at the Food Bank. But it's not just the mission that he appreciates when it comes to volunteering, it's also the activity itself. "The nice part about the food bank is that there are so many different ways to volunteer…you can really just pick and choose what you want to do and what you're most comfortable with. And for me it was being outside, getting some sun, and learning something new." After trying a few shifts in the warehouse and the kitchen, he quickly found his place in the garden, getting his hands in the dirt and taking time away from work and his computer.
It was in the summer of 2020 that Alex decided to pack up his life in Philadelphia and make his way south, in search of a new experience in Austin. An important part of his plan was to find a place to volunteer in person. "I give blood and I support a few other causes...but this is the first time I've shown up and gotten blisters." Another one of the causes Alex's company supports is the American Foundation for Suicide Prevention. Owning his own financial firm offers Alex a flexible schedule, so he is able to work a regular weekly shift in the garden. And while some folks enjoy the opportunity to come with friends or groups, Alex enjoys the time to himself. "It's a me thing," he says. "I do this just for me."
Of course, anyone who has spent any time in our garden knows that one of the best parts of the experience is getting to learn from our Garden Manager, Greg. "He's the reason I keep coming back," says Alex. "I can pick up anything out there, any vegetable, and Greg will run down the history—when best to plant it, when not to plant it, if you could do it at home, that sort of thing." Coming back each week has given Alex the chance to learn a lot from Greg and feel closer to the cause. "I've planted seeds that I then picked six weeks later and then we put them in boxes and…Greg will tell me that day, 'This week, those are going to go to children to teach them a class on how to cook whatever we just grew.'" It's having the tangible experience of sowing seeds and harvesting them that Alex loves most about volunteering, as well as knowing that the vegetables he helps grow are used to help fulfill the mission.
Without overthinking it, Alex has continued to keep his regular commitment by working each week in the garden, "You just pick something you care about and you just go do it." Thanks to his dedication to the cause, his volunteer time has reached 99 hours total so far. From his time spent getting to know Austin and the Food Bank a bit more these last couple of years, Alex finds that what he likes most about this community is that you find folks from all walks of life here. "It's very much not homogenous here in the types of things people do, in the things people care about, and how they get involved with their community. And I think I enjoy that most," he says. "I like being around the people here."
We are certainly grateful that Alex chooses to stay involved in his community and spend his time giving back to our cause. Thanks for fighting hunger with us, Alex!