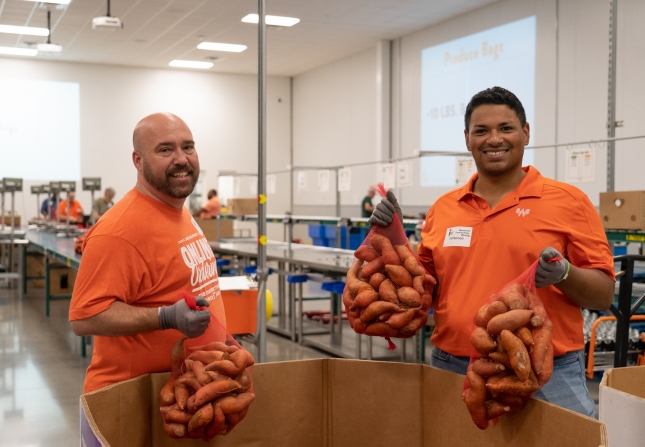 Our friends at Whataburger have been committed to the fight to end hunger in Central Texas once again this year. Since August of 2021, Whataburger has contributed over $100,000, which has provided over 400,000 meals for neighbors in need!
This month, Whataburger showed up to #endhunger once again by sponsoring Hunger Action Month in September. As in years before, Whataburger generously provided breakfast and lunch for our staff on two occasions throughout the month.
Additionally, Whataburger is inspiring our volunteers to give back by matching donations made in the Food Bank lobby and offering some awesome prizes to those who wear orange during their shifts this month! Whataburger is showing up to volunteer with us as well. Ten volunteers contributed a total of 30 hours during Whataburger's Orange Spirit Week in August. We were also thrilled to host some of Whataburger's leadership for a volunteer shift in our warehouse earlier this month.
This year has brought many challenges for our Central Texas neighbors. We can't thank Whataburger enough for going above and beyond to make a real impact for families struggling to get back on their feet. Whether it's employees volunteering in our warehouse or raising funds to fight hunger, Whataburger is always looking for creative ways to make a difference. Thank you, Whataburger!