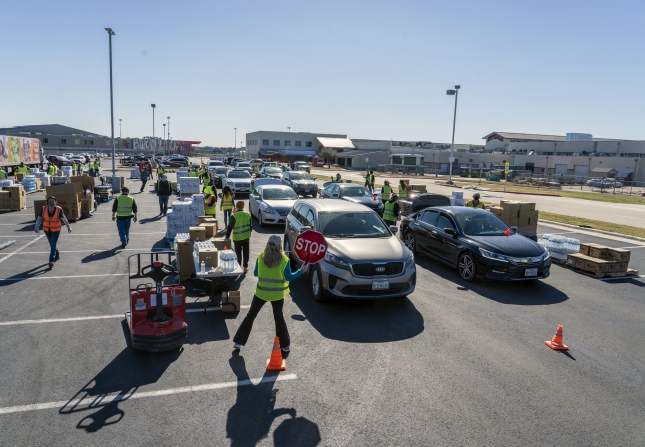 Snow in Texas is always an exciting sight. But this year, Texans experienced a snow storm like never before. The freezing temperatures caused hazardous road conditions, power, water and service outages that left Central Texans coping with deadly weather conditions for a week and beyond. Even the Food Bank was forced to cease operations due to icy road conditions in our 21 county service territory.
Image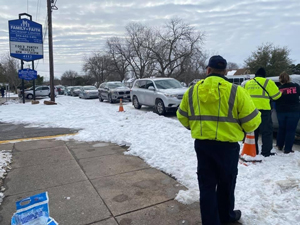 Like they have done all year for the pandemic, Central Texans came together to donate food, water and funds to their neighbors in need. Food Bank Partner Agencies, like Family of Faith Worship Center in Waco, stepped up to help distributed critical resources to their community. They enlisted the help from the City of Beverly Hills Volunteer Fire Department who broke up the ice and shoveled snow to clear the parking lots and direct traffic, ensuring they could still hold a distribution despite the inclement weather. Thanks to your donations to the Food Bank, the pantry was stocked with staples. With help from volunteers, Family of Faith held a drive-through food distribution in 12-degree weather! 
 
While the winter storm only lasted a week, the effects were devastating. Spoiled food, home repair costs, lost wages due to business closures put families already struggling to make ends meet over the edge. 
As we got ready to re-open, we knew the need would be greater than ever. We can't thank YOU enough for supporting our relief efforts to help families recover. 
Special thanks to Tito's Handmade Vodka for sponsoring our first mass distribution after the winter storm. Cars lined up for miles and we served 2,210 household—our second largest mass distribution. 
The Clubhouse Community, #CHLOVESTX, rallied to help raise more than $146,000 for multiple organizations, including the Food Bank, to aid in the recovery after the storm. Thank you for your support.
Thanks to our friends at The Shop Forward who raised $25,000 from their TEXAS FOREVER LINE. 
It was great to see various ActBlue Charities come together to raise nearly $500,000. Thank you for supporting Texans. Shout out to to Alexandria Ocasio-Cortez, MJ Heger, Black Lives Matter, Adam Schiff and Jon Ossoff, for going above and beyond to help families in need.
Our supporters at The Austin Classical Guitar joined the Austin Chamber Music Center, Conspirare, and KMFA for a benefit concert supporting our relief efforts. Thank you for helping us fight hunger.
Texans for Change and Clubhouse Austin partnered for Lights On Texas, a stream-a-thon benefiting Feeding Texas and its network of food banks. Thank you for inspiring others to give.
Thank you to KPMG LLP Austin and the KPMG US Foundation for helping us ensure Central Texans in need have food on the table.
From sharing information about campaigns to making donations, our community locally and across state lines is incredible. We are overwhelmed by your generosity. Thank you for stepping up during a critical time. Between the pandemic and the snowstorm, we couldn't help meet the increased demand without your help. Thank you!