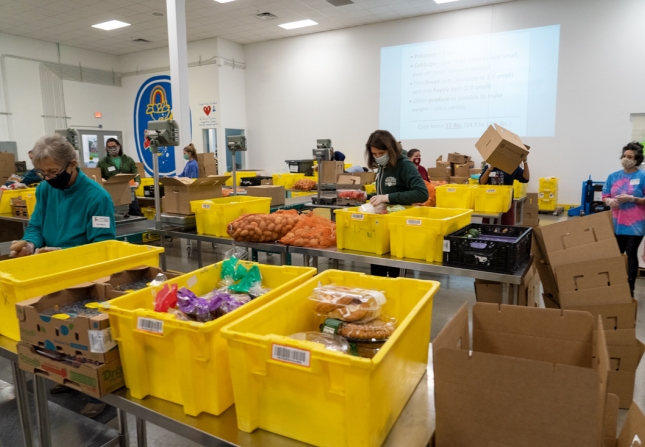 2020 was marked by business closures, work stoppages and school disruptions—making it difficult for thousands of our neighbors to put food on the table. To meet the skyrocketing need, we had to shift our distribution model and operations. Despite the challenges we faced, 2020 also showed our community's kindness, generosity and strength.

To help nourish our neighbors in need, volunteers answered our call for help. During fiscal year 2020, 23,748 volunteers donated 142,195 hours in our warehouse, garden, kitchen, at our Mobile Pantry distributions and helping with administrative tasks! Thanks to the incredible help from our volunteers, we distributed a record 64.5million pounds of food last fiscal year. With more families turning to us for help, we served an average of nearly 300,000 individuals per month.  

While our warehouse could host up to 100 volunteers per shift before the pandemic, COVID-19 changed everything. To maximize social distancing, we had to reduce the number to 30 volunteers maximum per shift. Despite our smaller workforce of volunteers, last fiscal year 16,866 volunteers helped sort and package food for distribution. We are blown away by the hard work of our volunteers. 
Shifting our volunteering model wasn't the only change we made. In order to meet the growing demand, we began hosting drive-thru Mobile Pantry mass distributions, which help serve hundreds of families within a few hours. Volunteers stepped up to help, even if it meant driving a couple of hours.
Thanks to more than 4,700 Mobile Pantry volunteers, we ran 67 mass distributions last year, in addition to our regular 48 monthly Mobile Pantry distributions. Thank you! We wouldn't have had smooth distributions without the help of volunteers who directed traffic and distributed food to thousands of families in need.
We can't thank our volunteers enough for showing up to volunteer during the pandemic, for being patient as we learned and made changes to our volunteering and distribution model, and for making a difference in our community.
Last year was difficult, and families will continue to need our help as they get back on their feet. But we know we can fight hunger thanks to our amazing and selfless volunteers!