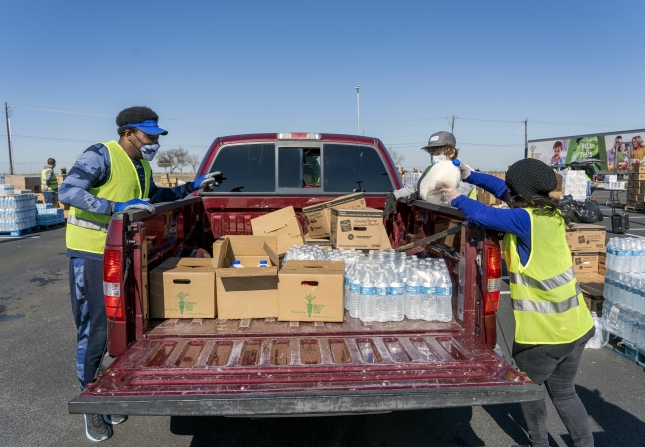 The past year and most recently the past few weeks in the aftermath of the snow storm have been the most difficult for Central Texans. For families already impacted by the pandemic, the winter storm left even more families facing hunger.
But our community has really stepped up to help. Austinites united for Amplify Austin, I Live Here I Give Here's 24-hour day of giving, to help fight hunger like never before. We are astonished by all the support our community has shown us.
This year for Amplify Austin, we finished at the top of the leaderboard with the most funds raised: $735,095—breaking a record in Food Bank history!
We are so grateful to the 3,446 donors who made this possible. We are overwhelmed by your generosity. With the help from everyone, we were able win $1,000 hourly prize for Most Dollars raised. Thank you for standing alongside us to help ensure Central Texans have food on the table.
To kick off early giving for Amplify Austin, our friends at Sherlock Charitable Foundation provided a $10,000 match. Right before early giving ended, an anonymous donor surprised us with another $10,000 match. Special thanks to our early giving matching donors and to everyone who gave early. With your help, we won the $2,500 Early Giving Prize!
On the Day of Giving, ShipStation and McCullough Heating and Air Conditioning teamed up to provide a $75,000 match to help motivate Central Texans to donate. Though the match was quickly met, that wasn't the end. Former Food Bank President and CEO Hank Perret and his wife, Mary, stepped up to match $15,000. 
Huge thanks to all of our matching donors for inspiring our community to double their impact. We couldn't have done it without your help!
Amplify Austin truly engages our community. Here at the Food Bank, our staff participated in a little friendly competition by breaking up into teams and starting their own team fundraisers. Together they raised $24,128—the most our staff has ever raised during Amplify Austin. Thanks to our staff who participated.
Each year Amplify Austin makes it easy for our community to support each other. This year, our community blew us away. Thank you for making this the best Amplify Austin yet. We are so thankful for your kindness. Because of you, Central Texans can count on the Food Bank to help feed their families. Thank you, thank you, thank you!