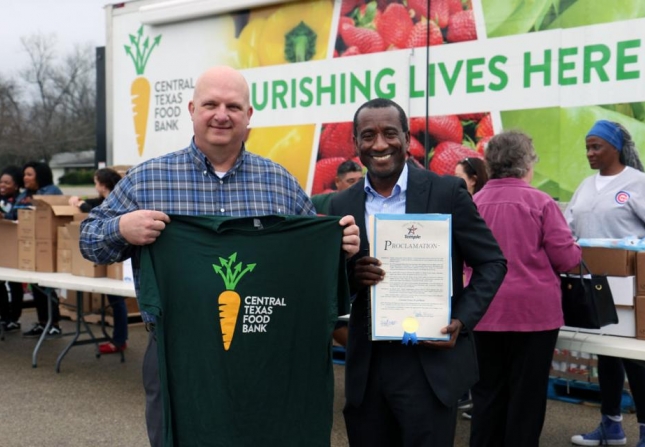 Anita, a Temple resident, lives right down the street from the Food Bank's monthly Mobile Food Pantry distributions at Ferguson Park.
Though she has only been picking up food at the distribution for the past year, the Mobile Pantry has been serving families, like Anita's, since 2012.
In February, the Mayor of Temple, Timothy Davis, made a proclamation recognizing the Food Bank's work to fight hunger in Temple.
To ensure that the Food Bank's resources go towards helping families in need, the City of Temple waives the permit fee for the Mobile Pantry site each month.
With help from volunteers, the Food Bank distributed nearly 84,000 pounds of food last year at this site, serving more than 5,100 individuals in the area.
For Anita, the food she receives at the pantry helps her make it through the month. Anita lives on a fixed income and relies on the Social Security benefits she receives to pay her rent and utilities. But she doesn't always have enough money left over to purchase groceries or even to go to her doctor appointments.
At the distribution, Anita is able to get pantry staples, protein and produce to keep her healthy.
"I don't have enough to carry me the whole month. That's the reason why I come here. To make it. And the food I get here helps me," Anita said.
With a 19 percent meal gap in Bell County, the Ferguson Mobile Pantry isn't the Food Bank's only food assistance effort.
Early last year, the Food Bank partnered with the Central Texas Veterans Health Care System to provide food assistance for veterans at the VA each month.
Through our network of 43 Partner Agencies in Bell County, as well as our monthly Mobile Food Pantries, the Food Bank was able to supply enough food to provide 8,500,220 meals in Bell County last year.