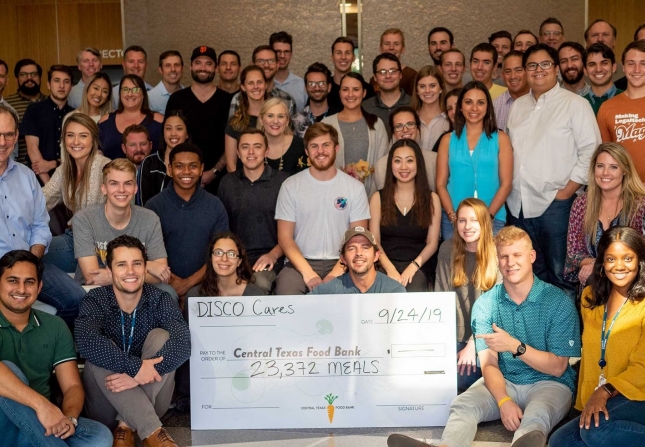 Legal tech company DISCO didn't waste any time making a difference in their new home after relocating its headquarters to Austin from Houston late last year.
To help wrap up 2018, employees stepped into the Central Texas Food Bank for the first time and it wouldn't be their last.
What started out as a volunteer shift last year has now grown into Hunger Action Month for DISCO Cares, the philanthropic branch of the company born out of their Hurricane Harvey relief efforts.
"Making sure others in our community have their basic needs cared for is very important to us and is a big part of our DISCO Cares DNA," James Bracey, Manager, Community Relations and Chair of DISCO Cares, said.
After 32 employees volunteered in our warehouse in August, helping provide 7,054 meals for Central Texans in need, they saw an opportunity to make an even bigger impact with our DipJars, credit card donation jars.
The company borrowed two DipJars and introduced them to employees in an all-hands meeting as part of their Hunger Action Month efforts. To raise the stakes, the founders announced a one-to-one dollar match for the donations collected through the DipJars.
The competition was on. The Dip Jars moved from team to team and floor to floor to see who could raise the most donations. Once the fundraiser was over and matched, employees raised $5,842, helping provide 23,372 meals for families in need!
"Since day one of DISCO Cares, our founders have been beyond supportive in all our philanthropic giving to help support our communities. They lead by example in terms of donation of their time, passion and money," James said.
Since employees first volunteered at the Food Bank in December 2018, they have donated 123 volunteer hours and helped provide more than 52,000 meals through their fundraising and volunteer work at the Food Bank.
It's amazing to see the impact DISCO Cares has made in just one year. With 2020 just around the corner, DISCO Cares is already planning on increasing their volunteer efforts for next year and engaging other companies to expand their Hunger Action Month efforts.
Thank you, DISCO cares, for your incredible generosity and your commitment to fighting hunger. We couldn't do it without supporters like you.