Every year our staff looks forward to SXSW, and it's not just for the great entertainment, learning opportunities and networking.  It's also a way for us to share our knowledge and partner with hunger relief advocates from around the country.  Here's what we're doing this year and how you can show your support for our mission to nourish hungry people and lead the community in ending hunger.
1. Attend a panel on why nonprofits should embrace data journalism
Megan Kilgore, our digital marketing manager, is teaming up with Becca Aaronson from the Texas Tribune and Javier De La Torre from CartoDB to talk about the opportunities for nonprofits to tell great stories and bring data to life in a way that benefits the community.
Sunday, March 9
3:30 – 4:30 p.m.
Austin Convention Center Room 10AB
500 E. Cesar Chavez St.
2. Take a shot at hunger with your hockey puck.
SXSW Hockey 2013. Image by Rebecca Bollwitt.
Sunday, March 9
1 – 4 p.m.
9th and Trinity
Back for its second year,  #SXHockey  is a street hockey tournament brought to you by HootSuite, Five Hole for Food and the Texas  Stars to raise funds for the Capital Area Food Bank. If you're flying solo,
RSVP on Facebook
and they'll play matchmaker and find a team for you.  If you have your crew already assembled
register your team today.
 They raised 7,500 pounds of food last year and are looking to double it and raise 15,000 pounds.
3. Good karma never tasted so good at The Beacon: Lounge with a Conscience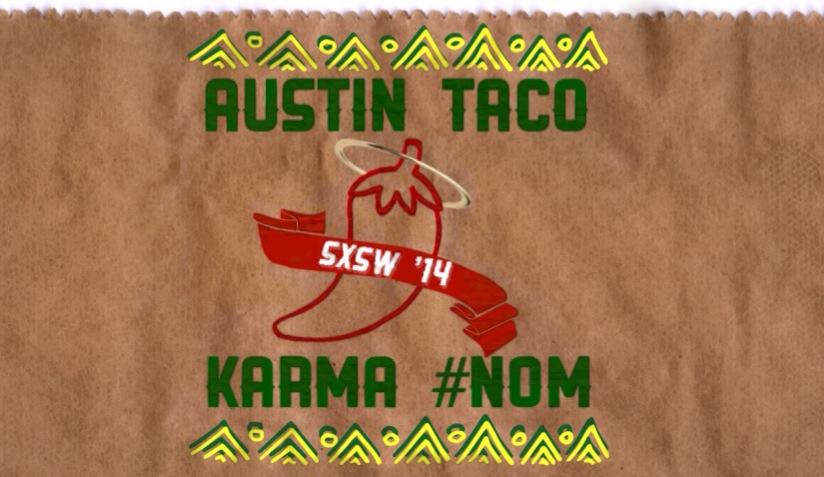 Saturday, March 8
11 a.m. – 2 p.m.
Austin Convention Center
3
rd
Floor
Room 8B
Let the great folks at Beaconfire Consluting  help you escape from the intensity of the festival  at their oasis for doing good. At
The Beacon Lounge
expect to meet like-minded tech savvy philanthropists and find drinks and food that will warm the cockles of your charitable heart. CDS Global is providing authentic Austin-style tacos for free with a donation to the Food Bank and they'll match donations up to $250.
RSVP and add it to your calendar here.
  Be sure to follow #SXGood for all the updates.
4. Attend a movie premier about a family's aspirations in the face of poverty and struggle.
Sunday, March 9:30 p.m. – 10:35 p.m.
Violet Crown Cinema
434 W. 2
nd
St.
Surviving Cliffside is about a young, Appalachian family fighting against poverty, substance abuse and the failing health of their child, as she aspires to compete for Little Miss West Virginia. Filmmaker Jon Matthews shares:
"I hope audiences will see this film and understand the struggles of a family, in a severely depressed economy, trying to survive on a modicum of aid and healthcare that is not nearly enough to maintain a humane standard of living. And how this systematic imbalance drives individuals to substance abuse and crime.

I believe poverty is the root cause for a large portion of all society's problems. If a socio-economic balance were achieved, college admissions would go up and prisons would be less packed.

I hope others will see this film and open their hearts to my cousin and his family. And not view them as different. Or 'the other.' But to identify and connect with them. To see them as human beings. With joys and hopes. Fears and sorrows. Who are, like all of us, just trying to do their best."
Food Bank Senior Director of Public Policy and Advocacy Kathy Green will be on hand to help answer questions about the struggles Central Texans face during the Q&A after the film.  Donations will also be accepted at the reception.
5. Feed your hunger for laughter, and we'll feed the hungry in Central Texas.

Sunday, March 9
10:30 p.m. – 12 a.m.
Brazos Hall
204 E. 4
th
St.
(21+ only)
Comedy Gives Back is coming to SXSWi to unite comics for a common cause – ending hunger in America.  Details are still coming, but we're sure it will be funnier than a slip on a rotten banana peel.