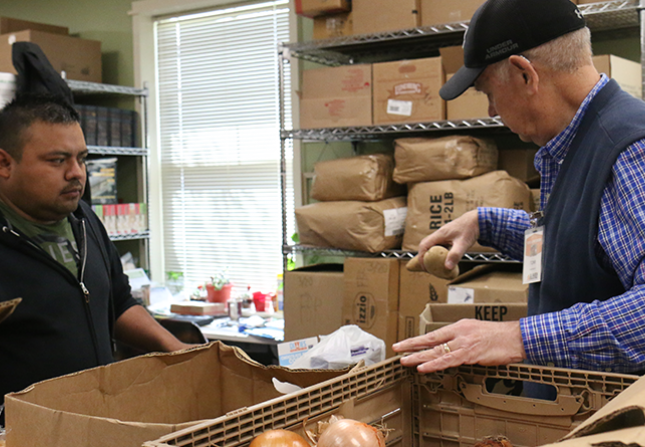 In 1993, a dedicated group neighbors in Taylor believed that a community's faith and dignity can be supported when its residents are supported with the most basic needs of life. Today, on the corner of Ninth and Hackberry Streets you can find volunteers (there are no paid staff) busily packaging food and serving families three days each week at the Shepherd's Hart Food Pantry.
The pantry is a faith-based partnership between the Taylor Area Ministerial Alliance (TAMA) and a group of volunteers dedicated to serving the Taylor community. "A Place of Hope and Healing," as they call themselves, this organization provides basic assistance with food, clothing and emergency shelter. Before TAMA joined forces with Shepherd's Heart, they were only able to keep their pantry open once a month, providing food for 35 to 40 families. In the face of growing needs for food assistance in Taylor, they knew that new resources, a stable home location and new partnerships were needed.
Thanks to a gracious donation from volunteers John and Stephanie Jones, the pantry found a new permanent home where clients could receive services indoors. By 2010, their new Coat of Many Colors thrift shop provided an additional source of donations, they obtained 501c3 status so they can receive charitable gifts and they became a Partner Agency with the Capital Area Food Bank of Texas.
Our partnership with Shepherds Heart continues to grow as they expand their volunteer support through their board, partnerships with churches in Taylor and other concerned residents.
In recent months, Shepherd's Heart has participated in a Food Bank pilot program, picking up food donations directly from local retailers rather than waiting for the food to come through our Austin warehouse. The pantry had to add new refrigerators to make room for all the healthy produce they now receive.
"This organization simply finds a way to make things happen," says Heath Ribordy, CAFB agency relations manager. "They set the bar high."
Former clients like the
Holman family
have expressed how vital this pantry is to their community.
"It's the fear of going hungry that drives people to the Shepherd's Heart Food Pantry every Saturday. Some have even known the feeling of missing a meal not by choice, and they fear it," Sara Holman shares.
Even though they no longer need to rely on the pantry for help with food, you can still find the eight members of the Holman family working together, side by side, volunteering each Saturday.
"For my family, filling those bags isn't a chore, an obligation or a duty; it is an honor," Sara says. "We know that, for every bag we fill, there is one person who will not be hungry this week. That feeling is worth all our work."