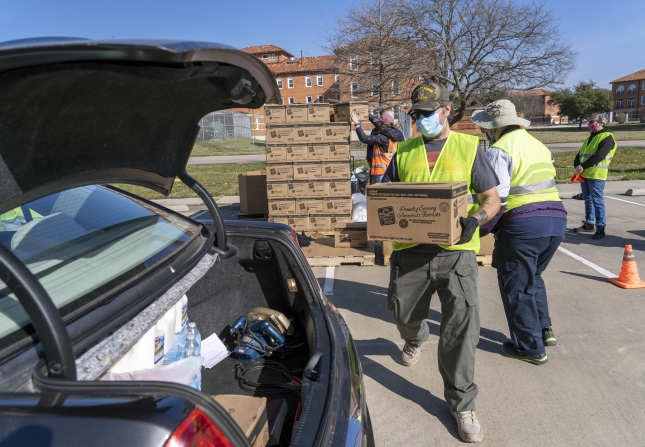 The recent winter storms left Texas families who were already struggling to make ends meet during the pandemic in even tougher situations.
For Ana's family, the winter storm caused her husband to lose a week of work. With her husband already working fewer hours due to the pandemic, the lost wages have made it even harder for the family, especially near the end of the month when rent and bills are due.
"With only one week of not working, everything falls out of place. We have to figure out how we're going to pay for everything and how to get food and how to start over again," Ana said.
After the winter storm, Ana had to turn to the Food Bank for the first time to ensure her two children had food on the table.
Ana's situation isn't unique. Thousands of Central Texans impacted by the winter storm will continue to feel the effects of the storm for weeks to come. That's why we couldn't be more thankful for Samsung's kindness.
To help Texas families like Ana's, Samsung donated $1 million to support recovery efforts across the state. With offices in Austin, Samsung designated $500,000 to the Central Texas Food Bank to help the community where their employees work and live.
"We're extremely grateful to Samsung for this generous and timely donation," said Derrick Chubbs, president and CEO of the Central Texas Food Bank. "The recent winter storms, coupled with already high demand brought on by the pandemic, have created an acute food insecurity problem in Central Texas. This donation will help us provide two million meals for our neighbors in need at a crucial time. Thank you to everyone at Samsung for this amazing display of support." 
With one in five Central Texans facing hunger, up from one in seven pre-pandemic, we are so thankful for Samsung's incredible generosity. Their gift will help support our food distribution programs across our 21-county service territory. Thank you, Samsung, for helping us serve the more than 300,000 individuals who are turning to the Food Bank each month.
Samsung's generosity goes beyond their monetary donations. Samsung employees have been helping us fight hunger since 2016. More than 500 Samsung employees have donated more than 2,180 volunteer hours—in our warehouse, kitchen and garden—helping us prepare food for distribution. 
With support from friends like Samsung, Central Texans can count on the Food Bank when they need it most. 
"Thanks to food banks, there's a lot of people who receive food. They don't have to buy it. And I understand, because I have kids. I know what it's like to have a child ask you for something to eat and not have a way to give it to them. It's really hard. Thanks," Ana said.