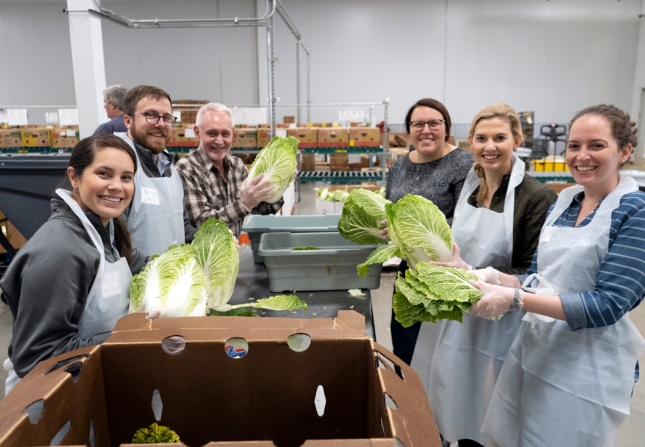 Though the Silicon Valley based law firm Wilson Sonsini Goodrich & Rosati (WSGR) has been around for almost 60 years, they celebrated 20 years in Austin by volunteering at the Central Texas Food Bank.
With smiles on their faces, WSGR staff unboxed, inspected and sorted thousands of pounds of cabbage that would be distributed to families in need.
While their volunteer shift lasted only three hours, the impact WSGR has made on Central Texans in need throughout the years and for years to come goes beyond our warehouse.
The WSGR Foundation recently made a $2,500 donation for our garden improvement capital campaign. To make an even greater impact, WSGR Austin corporate partner Rob Suffoletta donated an additional $2,500 towards the campaign.
Additionally, the generous gift will be doubled by the Loewy Law Firm to make twice the impact. WSGR's donation will help us improve our garden facilities to include an outdoor pavilion, storage, restrooms, a permanent greenhouse and a teaching garden.
An expanded garden facility allows us to teach our community about food production, grow more produce to feed families in need and further engage our community in the fight against hunger.
Throughout the year, families learn about horticulture and how to cook on a budget with produce from our garden. During the summer, kids in our summer meal programs take field trips to our facility to learn about gardening and participate in nutrition education classes.
"It is inspiring because they're showing you one-on-one...how to do every step individually," Sandy, garden class student, said
The garden also allows us to distribute fresh, organic produce to families in need through our programs and Partner Agencies. This year, the garden will provide 7,500 pounds of produce to Central Texans facing hunger.
Thank you, WSGR, for helping us nourish lives in the garden! We're excited to see our garden improvements come to fruition.
Supporting our garden expansion capital campaign is not the first time the law firm has stepped up to make incredible strides for our community.
The law firm first became involved with the Food Bank when our former President & CEO Hank Perret joined the Food Bank team in 2010. Over the years, the WSGR Foundation and individual employees have supported the Food Bank, most notably during the capital campaign that made our current facility a reality.
We're so grateful for all the support from WSGR. With your help, we're building a healthier community.