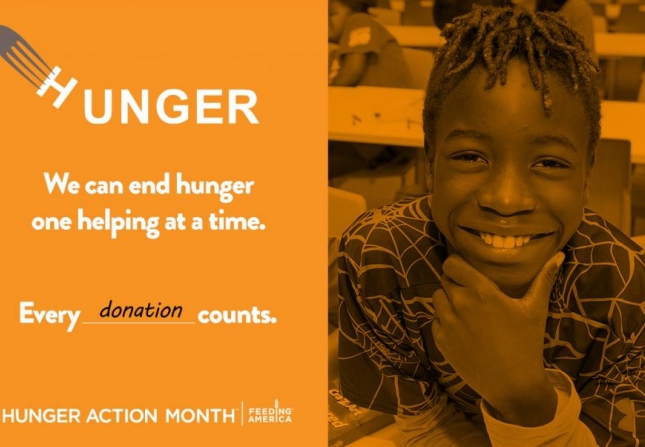 September is Hunger Action Month – a month where we mobilize our community to take action on hunger. In Central Texas, hunger is a serious problem. One in seven individuals and one in five kids don't know where their next meal will come from.  We need your help. Together we can end hunger one helping at a time. Here's how you can join the national movement by helping locally:
Sign up for a Volunteer Shift
Warehouse. Join us in our warehouse to ensure that only the best quality food possible makes it out of our doors and into the hands of families in need. With food donations arriving at the Food Bank each day, we need volunteers to help us clean, inspect, sort and palletize food for our distributions. Kids as young as eight can help make our mission possible in the warehouse. Sign up for a shift here.
Kitchen. Get ready to put on a hair net or beard guard to help our chefs prepare hundreds of meals each day for kids facing hunger. We need an incredible group of individuals to make and pack delicious meals just in time for when the last school bell rings. Our kitchen volunteers help ensure kids have a meal after school. Individuals must be 15 years and older to help in the kitchen. Sign up for a shift here.
Garden. If you enjoy the fresh air and sunshine, our gardener needs your help. While out in our garden, assignments can include planting seeds and seedlings, pulling weeds, shoveling compost, harvesting produce and cultivating the garden beds. The work done in our garden helps provide fresh, organic produce to families in need. You must be 15 years and older to volunteer. Sign up for a shift here.
Mobile Food Pantry. If you are more of a people person, we need your help at our Mobile Food Pantry distributions. During the distributions, you will be able to connect with the neighbors we serve. It is a great opportunity to see our mission in action as you help distribute food, provide cheerful service to clients and assist with set-up and teardown at the distribution site. We need your help at 52 distribution sites across Central Texas. Kids eight years and older can volunteer at a distribution site near them. Sign up for a shift here.
Fight Hunger at Subway
Subway is helping fight hunger one sandwich at a time and you can help. For every two meals purchased at your local Subway during September, the sandwich chain will donate a meal to the Central Texas Food Bank.
Make a Difference at the Grocery Store
Kids need nourishing meals to learn and grow. That's why we have partnered with Randalls to fight child hunger through their Hunger Is initiative. When you make a trip to an Austin-area Randalls, you can donate to the Food Bank at the register. The donations will help us support our children's programs, which provide after school and weekend meals to kids at risk of hunger. With just a $1, we can help provide four healthy meals for hungry Central Texas children.
Host a Virtual Food Drive
Virtual Food Drives raise dollars instead of cans, making them an easy and effective way to fight hunger. The funds you raise go further at the Food Bank than a canned donation, and your friends and family can get involved from wherever they are. You might be able to buy 10 cans of food at the grocery store for $10, which is about eight meals. But through our economies of scale and food donor relationships, the Food Bank can source 40 meals worth of food with the same $10. Start your food drive today!
Celebrate National Food Bank Day at Caroline
Celebrate National Food Bank Day on September 6 in the best way possible—by helping feed others in need! When you get the Roasted Sweet Corn Dip and Wild Mushroom Bolognese at Caroline, all the sales proceeds will benefit the Food Bank!
Enjoy Live Music at Gospel Brunch
Join The Purgatory Players for a "Gospel-ish" brunch every Sunday at The Backstage at El Mercado. The live music is top notch and benefits the Food Bank all September long.