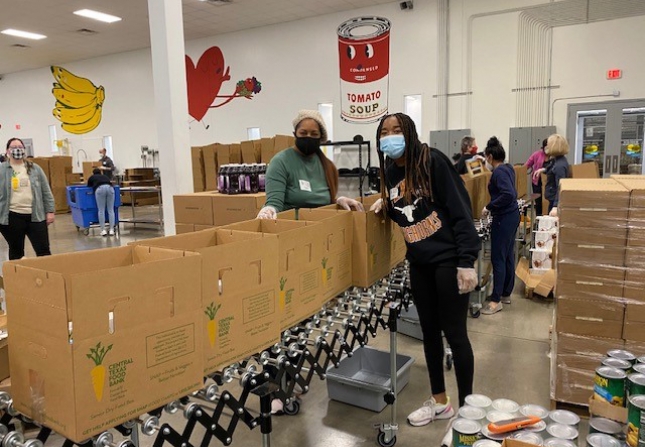 Every single day, women help make the world a better place with their leadership, strength and resilience. This International Women's Day, we want to highlight an amazing group of women who are making a difference in our community: Jack and Jill of America, Inc. – Austin Chapter. 
Founded in 1938, Jack and Jill is a membership organization of mothers with children ages 2-19 dedicated to nurturing future African-American leaders by strengthening children through leadership development, volunteer service, philanthropic giving and civic duty.  
As an organization of mothers, Jack and Jill empowers their members by providing leadership development and training at every level of their organization, from providing scholarships to teens to career development. 
While they're celebrating Women's History Month by hosting Austin's own internationally renowned artist Deborah Roberts, the organization celebrates their members year-round. Women in the organization are exposed to as many culturally relevant opportunities as possible. Additionally, each month Model Mothers and former members' achievements are highlighted. As an organization of mothers, members support each other, especially along the parenting journey.
Jack and Jill believes that no one should go hungry. With volunteerism as part of their mission, they are committed to fighting food insecurity. When their Former Chapter President Sheldy Starkes became a board member of the Food Bank, our partnership with Jack and Jill grew even more. In the past, the organization celebrated Martin Luther King Jr. Day by marching and then honored him by volunteering in our warehouse. 
Over the years the organization has volunteered in our warehouse, in our community garden, and for our partner pantry in Killeen, and has committed to donating to the Food Bank. They have also raised food for the Food Bank by engaging their community during the Souper Bowl of Caring. 
"To us, giving back means not only engaging in philanthropy, but we also make an effort to roll up our sleeves and actively serve. Shirley Chilsom famously stated that 'Service is the rent we pay for the privilege of living on this earth'. We endeavor to live that and teach our children the same principle," Tiffany Tillis, Austin Chapter Community Service Chair, said.
Volunteering at the Food Bank is only a small part of how the organization makes a difference. As a group of mothers, they engage children from kids to teens to complete service-oriented projects. During the pandemic, early elementary students have helped put a smile on frontline workers by writing them thank you notes. When needed they also send supplies to Texas and Louisiana residents affected by hurricanes. In January, the organization hosted their 25th Biennial Beautillion. For the first time they awarded Beaux, who are members of the community, more than $17,000 in academic incentive grants.  
We're so grateful for our partnership with Jack and Jill. Not only are they leaders in our community, but they're committed to uplifting and empowering other women. Y'all are inspiring. Happy International Women's Day!