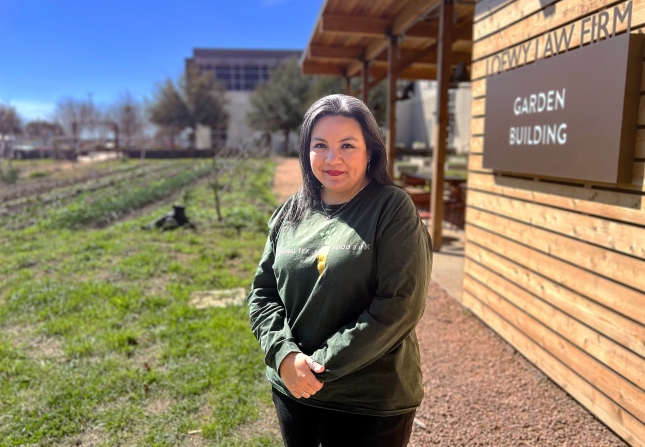 Veronica Sedillo (she/her) serves as the Payables + Payroll Manager at the Central Texas Food Bank, where she's worked since 2009. A native to Austin, Veronica left a corporate job searching for nonprofit work because she wanted to find a way to give back to her community. She enjoys the Food Bank's friendly culture and flexible work environment. "The people here make it easy to come to work every day," Veronica says.
Finance roles require immense attention to detail and expertise, and Veronica enjoys the consistency and repetition of the schedule - deadlines for payroll and payments are something you can easily plan for and count on. Veronica is known for her stability and service to her fellow Food Bankers. "Veronica is always that team member you can count on! She has her hands busy at all times and is always available," shares one coworker.
Veronica works closely with our Food Industry team to ensure that food orders get processed on time. This work is critical to connecting our neighbors in need with healthy and fresh produce. And, she has never missed a payroll deadline. "I put the job first," Veronica says.
The Food Bank is modernizing our payroll and expense management technology. Veronica's dedication to the smooth transition to new tools has been critical to our success. She dedicates her spare time to becoming an expert in our new human resource information system (HRIS). "If I don't know, I'll figure it out," she says. Her next big project will focus on digitizing our expense and invoice operations.
With 12 years of tenure, Veronica has seen much growth at the Central Texas Food Bank. "It's been great, and I wouldn't have been here this long if I didn't feel like the mission was something I wanted to support," she says. "Seeing how we're able to get the food out in new ways is really interesting."
Veronica Sedillo was celebrated as the Food Bank's December 2022 Team Member of the Month. Her favorite meal is a simple (but delicious!) burger and fries.