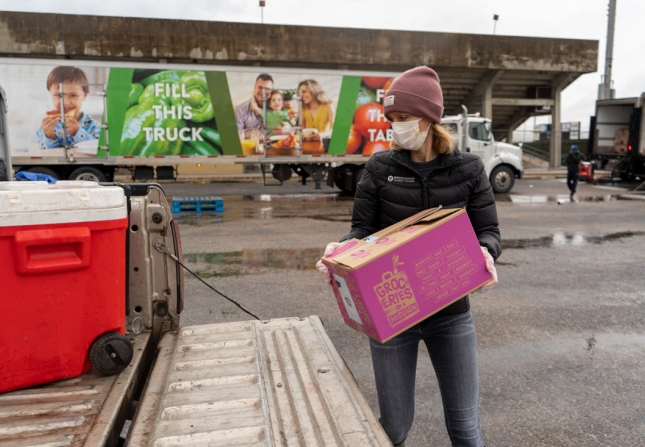 As an essential business, the Food Bank continues to operate during the "shelter in place" order to ensure families in need have access to nourishing food during the COVID-19 pandemic. With fewer food donations from retailers and a drastic increase in families turning to the Food Bank for help, our resources are stretched to the limit.  How can you help?
Make a Monetary Donation
The best way to help our neighbors in need is by making a monetary donation. This gives us the flexibility to purchase exactly what we need for this situation. Thanks to our purchasing power, we can stretch a $1 donation to provide four meals for families in need. Make a donation here.
Spread the Word on Social Media
Practice social distancing and let your friends, family and online network know about our mission. Start a Facebook Fundraiser for the Central Texas Food Bank. Facebook waives any credit card processing fees, so 100 percent of donations will go toward feeding families in need. Get started with our Facebook Fundraiser Toolkit here.
Engage your network on Instagram. All it takes is a sticker. Use the Stories feature and add a "Donation" sticker to your story to make it easy for others to give. Search for the Central Texas Food Bank or @ctxfoodbank.
Start a Virtual Food Drive
With a Virtual Food Drive, you'll set up your own custom, secure fundraising webpage where you can raise monetary donations for the Central Texas Food Bank. You'll set a monetary goal and create a custom URL for your page to share with others. Anyone who donates through your Food Drive will receive an automatic email receipt.  Create Your Virtual Food Drive here.
Take Action at Your Local Retail Store
Make a donation on your next trip to H-E-B. When you check out, you can donate $1, $3, $5 to the Food Bank at the register. A $1 donation helps provide four meals, a $3 donation provides 12 meals and a $5 donation provides 20 meals!
Help provide meals for families in need at Randalls. You can make a donation to the Food Bank on the pin pad when you check out.
If you're part of Target Circle, the company's loyalty program, you can cast votes for donations to the Central Texas Food Bank. Votes can be cast online or through the app from April through June 30.  Each vote gets us closer to receive a donation grant from Target.
Support the Food Bank Locally
Detours Bar is helping us feed our most vulnerable neighbors during the pandemic. The bar is serving food and offering free delivery/pick up. When you order from Detours Bar, they will donate 10 percent of all sales to the Food Bank. Check out their menu here.
Easy Tiger is challenging our community to Feed Austin. The Austin staple is ramping their bakery production to provide 10,000 loaves of bread to our community in 60 days. To kick off the challenge, they're matching the first 2,000 loaves. Our community can help by adding a loaf of bread to their order or by donating a "community loaf" of $3. You can help by checking out their site here.
Subway is helping secure meals for Central Texans in need. When you purchase a footlong sandwich through April 30, a portion of the proceeds will benefit the Food Bank.
Siete Foods and Highway Robery are partnering up to help provide nourishing meals for Central Texans in need with a unique kimono. Only 35 kimonos are available. For every kimono purchased, $20 will be donated to the Central Texas Food Bank. Purchase a kimono here.
The Austin Chinese-American Network (ACAN) is hosting an online youth concert on May 9 from 8-10 p.m. to raise funds for families in need. You can turn in to the concert online here and make a donation to the Food Bank here.
Find more local businesses that are supporting the Central Texas Food Bank on our Campaigns for Our Cause page.