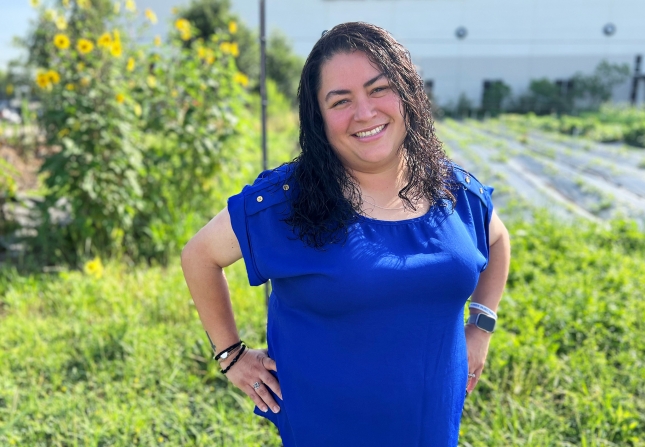 As the Food Bank's Benefits + Emergency Services Receptionist, Roxana Aviles (she/her) understands the importance of showing empathy and compassion to our neighbors in need. Many neighbors who utilize Food Bank resources are only one paycheck or emergency away from needing food assistance. Roxana recognizes that people need to be heard and understood. Her genuine conversations and attentive listening help our neighbors feel valued and cared for, making them realize they are not just another face in line but individuals deserving of support. Her ability to offer a human touch in her interactions creates a lasting impact on those we serve at the Food Bank.
"I'm definitely a customer service person. Before coming to Austin, I worked in retail for a good 6-7 years. And it's always been my thing--to see people eye to eye, have conversations with them, make them feel at ease, offer what's within my reach," shares Roxana. Roxana worked in the hospitality industry after moving to Austin several years ago. However, when the pandemic struck, she faced the uncertainty of job loss. Determined to make a difference, she sought a role where she could serve her community with purpose. Inspired by our mission and the opportunity to help others, Roxana joined the Food Bank team as a Benefits + Emergency Services Receptionist in April 2022.
The Food Bank's Benefits + Emergency Services team provides one-on-one application assistance to individuals who may qualify for federal nutrition programs and other benefits that offer stability in their lives. Neighbors seek assistance applying for benefits such as SNAP, Medicaid, CHIP, TANF, Healthy Texas Women and Medicare Savings Program. With the support of these programs, families are empowered with direct access to the resources they need, so they can focus on brighter futures.
Each day, Roxana's schedule can include any number of tasks: engaging with clients over the phone, handling appointments, answering questions on the helpline, assisting walk-ins, and providing guidance on benefits enrollment processes. Through her work, Roxana connects with neighbors personally, listening to their stories and helping them navigate their challenges. Roxana says that the best thing about her role is that "Not always, but most of the time I'm able to put a smile on [people's] faces, either by getting them food or an appointment to apply for food benefits. The satisfaction of them getting something initiated is rewarding for me."
Last fiscal year, the Benefits + Emergency Services team submitted more than 1,600 SNAP applications, resulting in nearly 1.7 million meals provided to individuals in our 21-county service area. With plans to integrate benefits assistance into mobile food distribution programs, Roxana is excited about the growth opportunities ahead so the Food Bank can reach even more people in need.
Roxana's compassion, empathy, and unwavering commitment to service make her an invaluable asset to the Central Texas Food Bank. "She goes above and beyond for our neighbors. If they have any issues, she will figure out how to fix them. Whatever comes her way, she gives it all she's got," shares one of her colleagues.
Roxana Aviles is the Food Bank's April 2023 Team Member of the Month. Her favorite meal is her grandmother's pork and chicken tamales.
Join our team! We're hiring highly motivated and collaborative individuals who value service above all else. View Open Positions