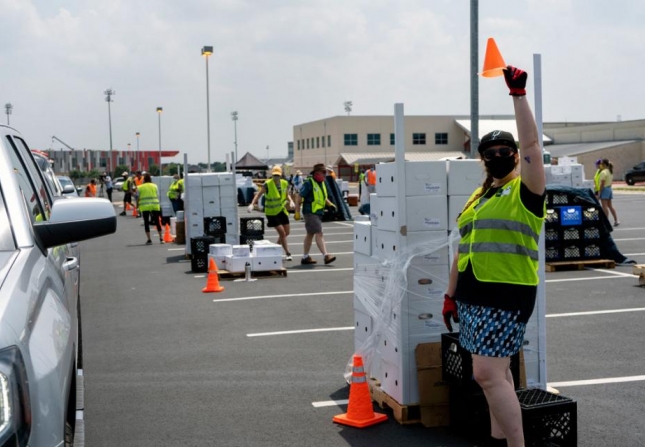 What are we doing to meet the dramatic demand?
We have adapted our volunteer model. We decreased the number of volunteers onsite from up to 80 to 30 to maximize social distancing. Though we have smaller shifts, our volunteers focus on packing emergency food boxes and items. Additionally, we joined forces with several faith-based organizations to help pack emergency food boxes offsite.
Our Mobile Food Pantry distribution model has changed. Prior to the pandemic, our distributions consisted of pop-up food pantries where individuals would go down a line and pick food items to take home. To ensure the safety of everyone, our distributions are now drive-thru with volunteers placing boxes of food in vehicle trunks.
In addition to our regular Mobile Food Pantry distributions, we have added mass distributions to help meet the increased need. Between April and May, we had 15 mass distributions across Travis, Hays, Bell and McLennan. Eight distributions are scheduled for June.
The locations of these mass distributions accommodate hundreds of vehicles, allowing us to set up several drive-thru distribution lines and serve more than 1,000 families within a few hours. Last month, we served 12,497 families at our mass distributions.
To help our most vulnerable neighbors we partnered with CapMetro and H-E-B to provide Help-at-Home kits to MetroAccess customers. Since the program began in March, 3,704 MetroAccess older adults or individuals who have disabilities received emergency food boxes.
The Food Bank is also aided the City of Austin's efforts to support individuals experiencing homelessness. During the six-week program, we provided the food items and bags to fill 1,000 bags a week that were distributed to encampments for the homeless and individuals in the downtown area.
We pride ourselves in providing food for individuals when they need it most. Between our network of 260 pantry partners, Mobile Food Pantry distributions and programs, last month we distributed 5,703,433 lbs. of food—the most we have ever distributed—or the equivalent of 443.5 blue whales!
COVID-19 has brought many changes to our operations, but we're committed to serving our Central Texas neighbors.