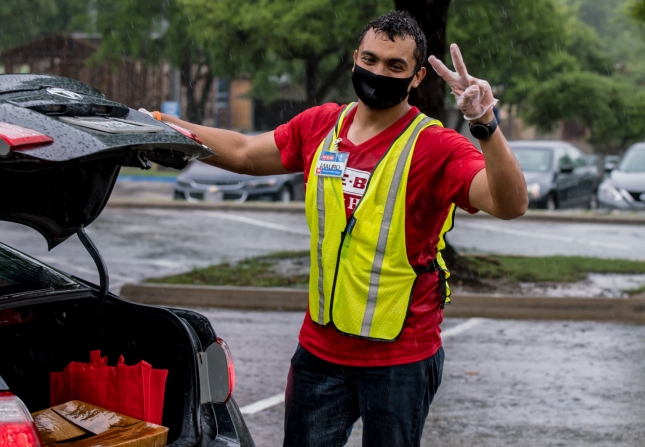 With COVID-19 affecting Texans' ability to provide for their families, H-E-B stepped up to help their neighbors in need. In partnership with Feeding Texas, H-E-B launched their Summer of Giving initiative with a goal of raising $2 million to support food banks across Texas. 

In the spirit of Texans helping Texans, the campaign made it easy for H-E-B customers to make a difference. For every H-E-B brand product sold, the grocery chain donated a portion of the sale to the local food bank.

During the summer, H-E-B customers helped raise $469,048 for the Central Texas Food Bank. That's nearly 1,880,000 meals for our most vulnerable neighbors!
 
We're blown away by the generosity of our community. Thank you, H-E-B, for going the extra mile to fight hunger. Special thanks to H-E-B customers for making an impact in the lives of families in need.

We're especially grateful for the additional support during this time of greater need. Feeding America, the nationwide network of food banks, estimates that 560,000 people in our 21-county service area face hunger, up from 400,000 pre-pandemic.

With one in five Central Texans facing hunger, the skyrocketing need led us to distribute a record 64.5 million pounds of food in fiscal 2020. We served approximately 297,000 individuals a month in fiscal year 2020, a 25 percent increase from fiscal 2019.

For many, it's their first time turning to the Food Bank. In September alone, nearly 13,000 households used our services for the first time.

From operational changes to transforming our distribution model, supporting the unprecedented need hasn't been easy. But with the help of our friends at H-E-B, we're nourishing families through our network of 260 pantry partners and food programs in a service area twice the size of Massachusetts. 

Thank you, H-E-B, for helping us put food into the hands of families struggling to make ends meet. Thanks to you, families can count on the Food Bank.