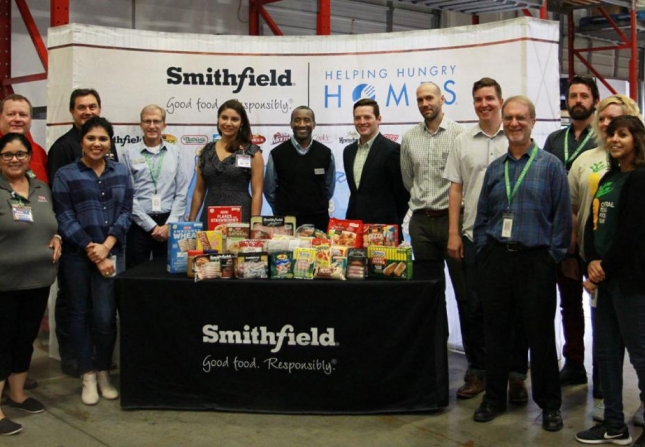 When the Smithfield Foods' 18-wheeleer truck opened, it revealed more than 40,000 pounds of frozen protein. Central Texas families struggling to make ends meet will soon have Smithfield's protein on their table.
Our community partners, Smithfield and H-E-B, joined forces to donate the 160,000 servings of protein to the Food Bank to ensure that our neighbors in need have access to a well-balanced meal. With one in six Central Texans at risk of hunger, the generous donation comes just in time for the holidays, when need is higher.
"As a food company, our goal is to provide for those in need who may not know from where, or when, their next meal will come," said Jonathan Toms, Associate Manager of Charitable Initiatives for Smithfield Foods. "While many communities in Texas continue to grow, so does the rate of food insecurity. We are working to alleviate the hardship of hunger in areas of all sizes, demographics, and need across the country."
Last year, Smithfield donated 35,000 pounds of protein. We can't thank, H-E-B and Smithfield, enough for making an even bigger impact this year with a larger donation. Thank you!
"Like Smithfield, hunger relief plays an incredibly important role in H‑E‑B's company culture," said Felicia Pena, Public Affairs Manager of H-E-B Central Texas Region. "We are proud to take part in this donation to Central Texas Food Bank that will help meet the needs of our neighbors and aligns with our commitment to caring for a community we call home."
The Central Texas Food Bank is just one of the food banks across the country that is receiving a protein donation. Smithfield's contribution was part of the company's 2018 Helping Hungry Homes® donation tour.
Since the program's inception in 2008, Smithfield has provided more than 100 million servings of protein to food banks, disaster relief efforts, and community outreach programs nationwide.