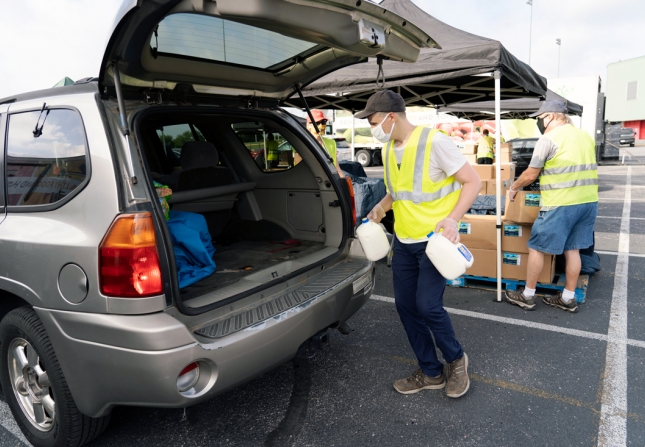 COVID-19 has affected our community like never before. Families have to make difficult budgeting choices, making it hard to put food on the table. Many families never imagined they would be attending one of our food distributions.

Due to the pandemic, we have had a 220 percent increase in individuals seeking food assistance from the Food Bank for the first time. To support the dramatic rise in demand, we have had to transform the way we serve our community. The pandemic caused disruptions to our supply chain, reduced food donations from grocery stores and forced us to purchase more food. All of this has put a strain on our financial resources.

But thanks to the outpouring support of our community, our Central Texas neighbors can count on the Food Bank for nourishing meals. In July, we distributed 6,971,324 pounds of food—the most we have ever distributed in Central Texas Food Bank history!
 
We can't thank our incredible community enough for all their help. We would like to give a huge thanks to several caring members of our community for their financial support to help keep our shelves stocked. The Central Texas Food Bank received support from these donors through their nationwide partnerships with Feeding America: NorthMarq, Humana Foundation, BBVA Foundation, UBS, Kimley-Horn Foundation, Morgan Stanley and Haynes and Boone LLP.

In April, Circle K teamed up with Feeding America.  For every fuel transaction, a portion was donated to local food banks. Thank you, Circle K, for your generous gift of $72,413 to help feed our most vulnerable neighbors. 

To help support our COVID-19 efforts, Amherst generously donated $25,000 to ensure families facing food insecurity have access to healthy meals. Thank you, Amherst, for your commitment to fighting hunger.

This summer, Subaru partnered with Feeding America to help support families affected by the pandemic nationwide. Their generous donation of $40,792 to the Food Bank helps support our network of food programs and more than 260 pantry partners in a 21-county service territory. Thank you, Subaru, for supporting Central Texans in need.

These past few months have been challenging, but we're grateful for the additional support we have received from our long-time supporters. In addition to Walmart's annual Fight Hunger. Spark Change campaign which has raised $617,193 since 2015, the Walmart Foundation awarded the Food Bank a $129,672 grant in July to help us secure and distribute fresh produce for our neighbors in need.  Thank you, Walmart.

Each holiday season, Crate&Barrel helps us raise holiday meals for our neighbors in need. Since 2017, they have donated $31,148, but due to the dramatic need families are experiencing now, they're supporting our COVID-19 efforts at the register through September. Thank you, Crate&Barrel. We're so grateful for your support. 

Since COVID-19 began, we have added additional Mobile Food Pantry mass distributions. In August, Starbucks generously donated $55,000 to help sustain our Mobile Food Pantry program across our 21 county-service territory. In addition to this year's grant, we have partnered with Starbucks since 2107 for their FoodShare program, which donates food from their store to our community, and received a $150,000 grant last year to expand our Mobile Food Pantry program. Thank you, Starbucks, for helping us ensure families have access to nourishing meals where they live.

Thanks to all these donors coming together we can continue to support our community in its greatest time of need. We're incredibly thankful for our community's generosity.