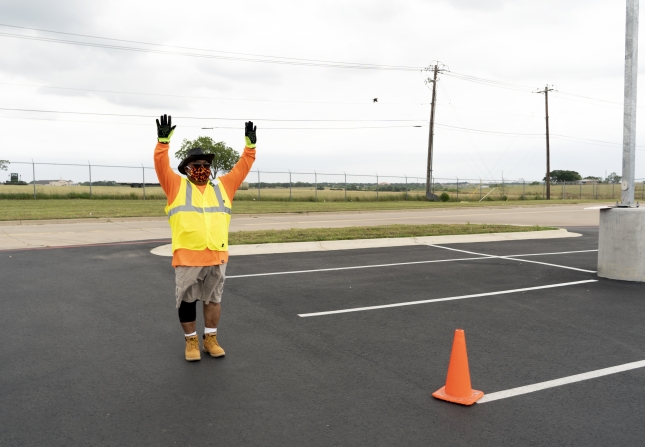 The pandemic has been tough for our community, but during a time when the Food Bank has had to quickly shift operations to meet the need, our volunteers have gone above and beyond to help. 

One of those amazing volunteers is Jesse Peña. It deeply pains us to announce that he has passed away. Our deepest condolences go out to his family. Jesse is greatly missed.

We met Jesse in March of last year when he began volunteering at the Food Bank. Though his first volunteer shift was in our warehouse, his true calling was serving our community at our Mobile Food Pantry distributions. In nine months, Jesse donated 181 hours at our distributions!

His huge heart and passion to help others meant there was no stopping him. When his employer's office was closed due to the pandemic, he started volunteering with us on a "full-time" basis—joining our staff five to six times a week at our distributions and traveling up to two hours for a distribution.  Despite living in Pflugerville, we could always count on Jesse, even at some of our most rural distributions. He truly served our Central Texas neighbors at 28 different sites, from Waco to San Marcos and everywhere around our 21 county service territory.

His knowledge on traffic controlling from his days in the Air Force was invaluable as we shifted our distribution model to drive-thru. He helped keep our staff and community safe by helping ensure safe traffic patterns at our distributions. 

Jesse exemplified incredible kindness and generosity. He always thought about others first. He was always one of the first to arrive to our distributions and like a big brother, he was the last to leave, making sure our staff left the distribution site safely. During the longer distributions, Jesse would often share drinks and snacks to help keep our staff hydrated and energized. Even when Jesse began working again, he shared his time off and even PTO with others, always making time to give back.

"When we saw Jesse's name on our volunteer shift, we would be relieved and excited. I wish for his family to know that Jesse was truly loved by everyone at the Food Bank who knew him," Anchal Saxena, Food Bank Distribution Programs Specialist, said.

Working with Jesse these past nine months has been an honor. His dedication and passion to serving our community were unbelievable. Our hearts and thoughts go out to his family for their great loss. We're deeply grateful to have had the opportunity to meet and know Jesse. His memory will continue to live in our hearts.