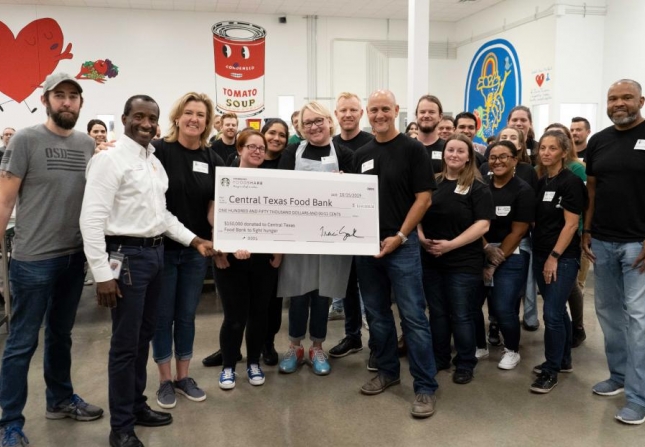 Day after day, our Mobile Food Pantry trucks leave our warehouse and travel across our 21 county service territory to serve families in need. They are received by families who are standing in line, sometimes for hours, waiting for the truck.
The wait is worth it for families, because it means they'll have food on the table.
Each month, our Mobile Food Pantry trucks set up pop-up food distributions at 52 sites. Within the next year, we'll be able to reach even more areas thanks to a $150,000 grant from Starbucks!
The grant will help expand our Mobile Food Pantry program to seven additional locations and add a new 30-foot refrigerated trailer to our fleet.
By taking food directly to families facing hunger, our mobile food pantries fill geographic and service gaps in food assistance by providing those in need with pantry staples, fruits and vegetables.
Last year, the Food Bank's Mobile Food Pantry program provided more than 3.1 million pounds of food, serving an average of 16,216 individuals each month throughout our 21 county service area.
"Starbucks is committed to doing our part to alleviate hunger in the U.S.," says Jane Maly, social impact manager at Starbucks. "Our grant to the Central Texas Food Bank's Mobile Food Pantry program is an expansion on our existing partnership to donate our surplus food, helping them to provide access to give kids the nourishment they need to learn and succeed."
The grant is only part of Starbucks efforts to fight hunger in Central Texas. This past summer, the company committed $1.5 million to 17 food banks across the United States, including the Central Texas Food Bank, as part of its efforts to help alleviate hunger.
Since 2017, the company has also been partnering with the Food Bank through its FoodShare program to donate nourishing food each day from its stores to families in need.
We're proud to fight hunger alongside Starbucks and are grateful for their support to help feed more neighbors in need. We can't wait to get our Mobile Food Pantry truck engines running and ready to serve even more Central Texans facing hunger thanks to Starbucks.