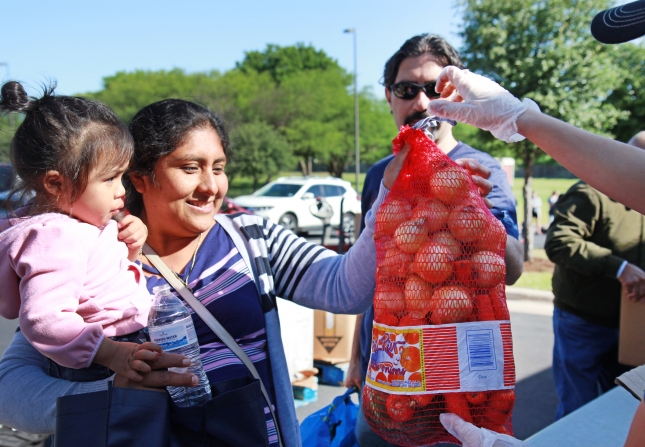 The face of hunger in Williamson County isn't what you might think. More than 63,700 individuals, or 12.5 percent of residents, don't know where their next meal will come from.
To make it easier for Williamson County residents to get access to the nourishing food they need, the Central Texas Food Bank partners with local pantries in the area.
Williamson County residents can get help with free food at one of the Food Bank's pantry partners located in Bartlett, Taylor, Jarrell, Cedar Park, Georgetown, Leander, Round Rock, Florence and Hutto. Individuals can find a pantry near them by clicking here.
In addition to our partner pantries in Williamson County, families can also get help at the Food Bank's Mobile Food Pantry distributions:
Murphy Park Pavilion: every third Friday of the month from 9-10 a.m.
Holy Temple Church: every second and fourth Thursday from 9:30-10:30 a.m.
St. Margaret Mary Catholic Church: every fourth Saturday from 9:30-10:30 a.m.
To help keep families in Williamson County nourished, families can go to our Fresh Food For Families distribution to get fresh fruits and vegetables at Zion Chapel every third Wednesday of the month from 11 a.m. to 12 p.m.
For the most up-to-date schedule information on our Mobile Food Pantry distributions, please call our hotline at 512-684-2559.
Individuals seeking food assistance at a pantry partner or Mobile Pantry will receive food at no cost. When you arrive, you will be asked to fill out a basic form declaring that you need help with food.
Please bring a food cart or several reusable bags to take your food to your final destination. Be sure to ask how often you may visit or use services.
If you need assistance finding a pantry near you, please give us a call at 512-282-2111.