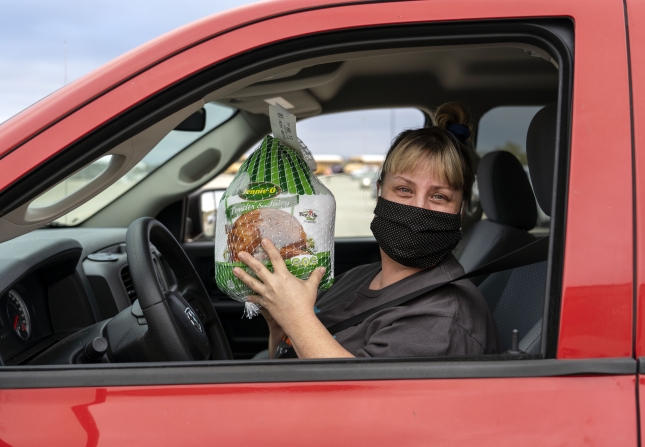 On some days, Rachel can't even get out of bed. She has a lung tumor that affects her daily activities. But on a Friday morning, she is having a good day. She makes her way to the Central Texas Food Bank's Mobile Pantry distribution in Manor. As a Food Bank donor in the past, she never thought she would be waiting in line for food.

"I never thought that I would be on this end. Never, ever, thought that I would be on this end…but you swallow your pride and you go get help when you can," Rachel said.

Since the pandemic began, things have taken a turn for Rachel. The 50-year-old's health problems have made it difficult to work. Her job required her to visit different businesses and with COVID-19, she couldn't take the risk. She lost her job.

 "I was very fortunate to never need help before, but with the pandemic, I think everyone is needing help, in some way, shape or form," Rachel said.

Now she depends on her husband's income to cover all their expenses. It's not enough, especially with Rachel's health expenses. She can't afford to get a lung biopsy to determine if she has lung cancer. She can't afford to go to the doctor anymore. Between her health expenses and bills, the couple is struggling to stay afloat. 

"We're about to have to turn in our car for repossession, because no money. Bills are always behind. It's hard to even talk about just because it's embarrassing.  It's very embarrassing. I've worked hard all my life for everything that we have, and just for something like this to make it to where you literally can't work," Rachel said. 

To help her husband out, Rachel began going to the Food Bank's Mobile Pantry distributions. She was surprised to receive a variety of food. From eggs to milk to pantry staples and protein, Rachel has been able to make a variety of meals.  

"It means everything. It was my responsibility to feed our family and I know there's only two of us, but my husband can barely pay the bills now, so it's amazing. I don't think we would have food if it wasn't for this," she said.

Rachel had become familiar with what to expect at a Mobile Pantry, but she wasn't prepared for what awaited her during November's distribution.  Food Bank staff unloaded pallets of turkeys to distribute. 

Rachel cried tears of joy when she found out that she would be taking home a turkey just in time for Thanksgiving. Though it would be a smaller Thanksgiving than usual due to social distancing and her health, Rachel was grateful for the turkey. It meant being able to enjoy a traditional Thanksgiving meal with her husband and meals for days. 

"Thank you. I totally wasn't expecting anything like that. It's amazing. This will really help out. God, a turkey that will last for a month. I'll break out my grandmother's recipes for all the leftovers. Thank you. I can't stop saying thank you," Rachel said with tears in her eyes.

This holiday season, families like Rachel's need your help to fill their Thanksgiving tables. Thanks to generous matching donors, your most generous gift makes TWICE the impact this holiday season. Help provide double the holiday meals.