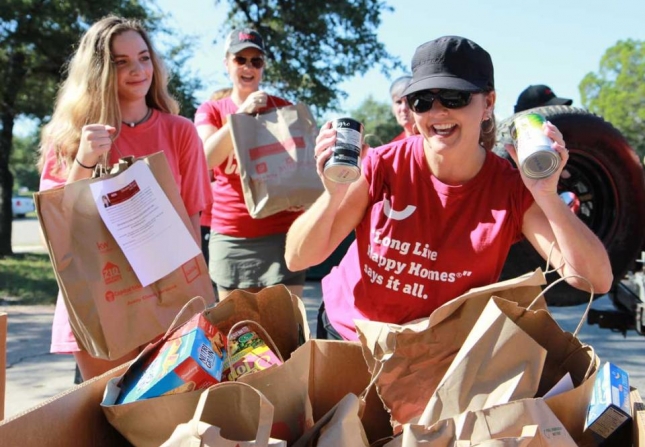 Teams from Austin's architect, engineering and building community will have their creative and playful creations on display starting Nov. 9 at Barton Creek Square Mall in Austin for the annual CANstruction competition. Starting at 8 a.m. you can watch 14 amazing structures created with cans come to life.
Judging starts at 4 p.m. where you'll find out who will take home the grand prize for best structure and bragging rights for the year. This year's celebrity judges include Shawn Cirkiel, chef at Olive & June; Pamela Power at Community Impact News; and Jet Butler at FODA STUDIO. Structures will be on display through the week until Nov. 17. You can vote online for your favorite design at
austinfoodbank.org/canstruction
and we'll post the winner on Nov. 18.
Their mission is to engage, amaze and inspire the community to work together raising canned food to feed the hungry. According to their website, CANstruction has donated 17.5 million pounds of food since 1992 including 25,392 pounds of food last year alone. Thanks to their ongoing support during the holiday season, the Central Texas families we serve can worry a little less about food and focus on making their holidays happy and bright. We couldn't be there for families without you.
Thank you to the competing teams:
American Society of Civil Engineers (ASCE) - UT Austin Student Chapter, Civiltude, CTA Architects Engineers, Square One, Trimbuilt Construction, DCI Engineers, EEA Consulting Engineers, Jackson Galloway, Grant Structural Engineering, Kelle Contine Interior Design, LLC, KGA Architecture, Cunningham|Allen, Kiewit Building Group Inc., GSC Architects, Encotech Engineering Consultants, Nelsen Partners, Schneider Halls, Rogers O'Brien, SixthRiver Architects, Leap! Structures, Akins High School and UT - Austin ASCE!
Special thanks goes to: Society for Design Administration and American Institute of Architects, Barton Creek Square Mall, Advanced Discover Printing Service, Bronson Dorsey Photography and AIA Austin Chapter, HON, MoveCorp, Torchy's Tacos, Starbucks, Chick-fil-A and Home Depot