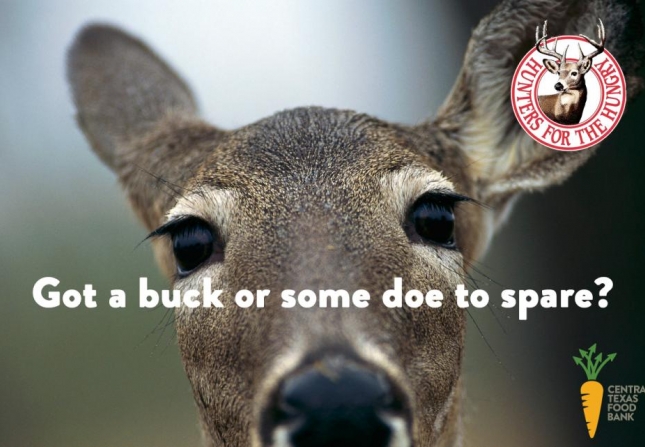 Locally sourced, lean, protein is a scarce item on our shelves. Now that deer hunting season is underway, you can help change that. In Texas, you can shoot up to five deer a year. For as little as $30 to $50 for processing, you can help control the animal population, improve local habitats and put good meat to good use. Check out the Hunters for the Hungry site to find a deer processor near you.
Are you new to hunting? Get the App. Get certified. Know the rules.
Texas Parks and Wildlife offers a free app for iPhone, iPad or Android for all of your Texas hunting needs. It does not even require internet service to work on your device.

From their site:
Find hunting season dates and bag limits for your county
See seasons and bag limits for all game animals
Review means and methods restrictions
Find public hunting lands
Apply for drawn hunts for mule deer, bighorn and other game
See types of licenses, permits and stamps available
Find licensed retailers near you
Texas has specific rules about who can hunt, especially if you are under age or if you have not completed training. The way you can hunt for deer varies from county to county. Visit the site to find out the specific rules for your area. White-tailed Deer Season 2016 - 2017
Archery only: October 1 - November 4, 2016
General season: November 5, 2016 – January 1, 2017
Youth Only: October 29 – 30, 2016; January 2 – 15, 2017
Muzzleloader: January 2 – 15, 2017
Special Late: January 2 – January 15, 2017
About Hunters for the Hungry A program of Feeding Texas (formerly the Texas Food Bank Network), a 501c(3) charitable partner with the Central Texas Food Bank, the Hunters for the Hungry program organizes the donation of thousands of pounds of game to local pantries. For more information, please visit http://www.feedingtexas.org/get-involved/hunt/.