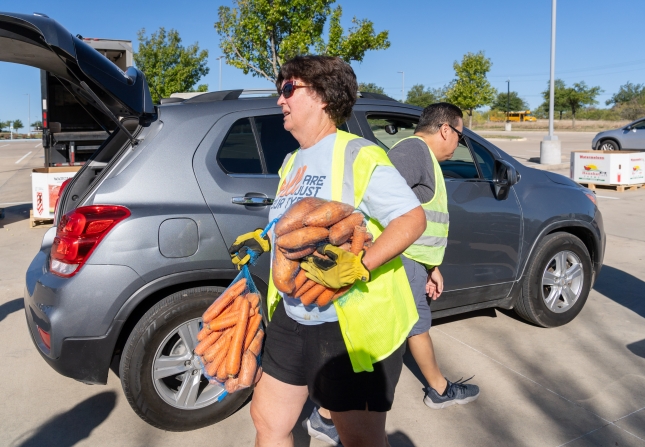 Central Texas is a thriving region, but hunger remains a serious problem. Nearly 477,000 people in Central Texas are food insecure, meaning they lack consistent access to enough nutritious food.
The Central Texas Food Bank (CTFB) is working to address this problem through its Mobile Food Pantry program, which travels to 21 counties in the region, providing fresh and nutritious groceries to people in need, especially in rural and underserved communities.
Last year, the Mobile Pantry provided more than 4.6 million pounds of food to an average of 21,967 households per month.
The CTFB is pleased to announce that it has been awarded a Mobile Distribution grant from CVS Health. This grant will help the CTFB Mobile Food Pantry program to continue its important work, providing food to people where they live and filling the gap for people who do not have reliable transportation or who live in areas without grocery stores.
The grant will be used to purchase food and other supplies, cover the costs of transportation and fuel, and expand the program to reach even more people in need.
Hunger has a devastating impact on individuals and families. It can lead to health problems, missed school days, lost productivity, and difficulty breaking the cycle of poverty.
Mobile food pantries offer a number of benefits, including:
Convenience: Mobile food pantries travel to different communities, so people don't have to travel long distances to get food.
Accessibility: Mobile food pantries are open to anyone who needs help.
Variety: Mobile food pantries distribute a variety of healthy and nutritious food items.
Flexibility: Mobile food pantries can adapt to meet the needs of the community.
How can you help?
There are a number of ways you can support the CTFB Mobile Food Pantry program, including:
Hosting a virtual food drive: With its purchasing power, the Central Texas Food Bank can do more with every dollar donated. Hosting a Virtual Food Drive, alongside or instead of a traditional food drive, is a fast and easy way for you to help more families facing hunger.
Volunteering your time: Volunteers are essential to the success of the CTFB. You can volunteer to help distribute food at a Mobile Food Pantry site or you can volunteer in their warehouse to help with other tasks, such as sorting and packing food that will eventually go to their mobile food pantry locations.
Advocating for hunger relief: Use your time, resources, and voice to advocate for policies, legislation, and community investments that address the root causes of hunger and poverty, and improve the lives of Central Texans.
The CVS Health Mobile Distribution grant is a welcome investment in the fight against hunger in Central Texas. The CTFB thanks CVS Health for their generous support of the Central Texas Food Bank Mobile Food Pantry program.