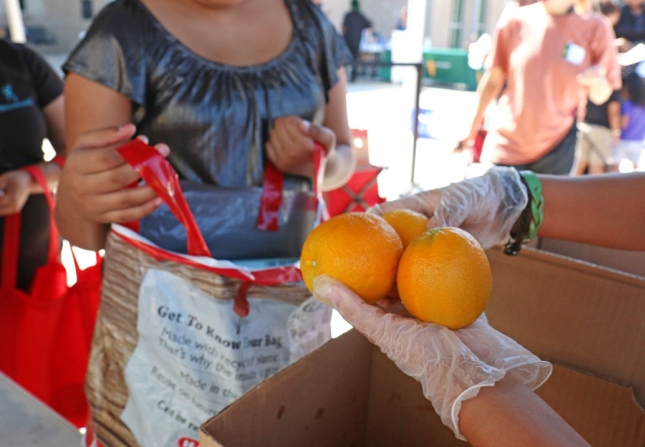 We are immensely grateful for all of the ways you have made an impact in the fight against hunger. With your help, the Central Texas Food Bank distributed 52 million pounds of food last year – more than ever. That's the equivalent of 43 million meals!
In addition to helping Central Texans in need, did you know that your charitable gift to the Food Bank is tax-deductible?
The Central Texas Food Bank is a 501(c)(3) organization, or a qualified tax-exempt organization, which means you can claim a charitable giving deduction on your taxes. Make sure to keep the tax receipt you receive from the Food Bank to claim your tax deduction.
While making a donation online or sending a check are a couple of ways to make an impact, with tax day right around the corner, you may be contemplating additional ways to amplify your investment in the Food Bank's mission.
Other ways to make a tax-deductible charity donation
There are definite tax advantages to making a tax-deductible charitable donation through:
A donor-advised fund
IRA charitable rollovers or distributions from other retirement accounts
Donating stocks and bonds. In most cases, the fair market value of the stocks, bonds and mutual fund shares will be allowable as a charitable deduction.
The Food Bank would be delighted to work with you on making a tax-deductible charitable donation of any of the methods described above along with bequests in your will or trust.
If you are interested in these options please contact our Resource Development team at 512-220-2680 or via email at contribute@centraltexasfoodbank.org.
Additionally, don't forget to seek the advice of your financial or legal advisor. A trusted legal or financial advisor can help you develop a strategy for making the charitable gifts that are the best fit for your current investment plans.
While getting a tax deduction for your generosity is a great benefit, keep in mind that your charitable contribution makes an impact for the one in seven Central Texans facing hunger. Your tax-deductible donations help us feed nearly 46,000 Central Texans across 21 counties who rely on our services each week.