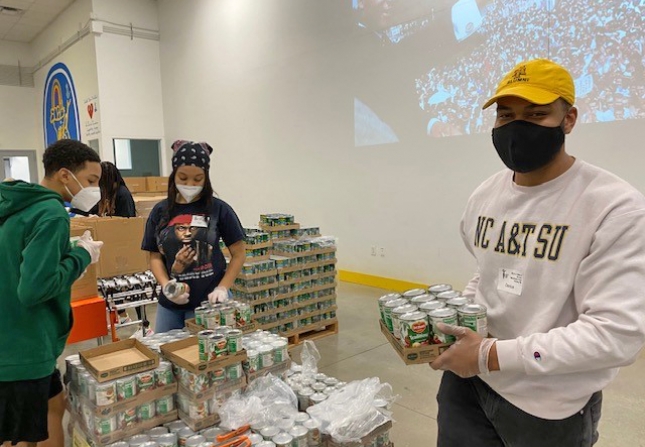 With so many families facing challenges due to the pandemic, our community never lets us down. Whether it's raising awareness about food insecurity or volunteering, our neighbors are always there to help. This Black History Month, we want to spotlight an amazing organization that is not only helping us fight hunger, but also making incredible strides by empowering African Americans in our community.
 100 Black Men of Austin is a mentoring organization that focuses on helping young men of color and gives African-American professional men a safe space. 
While the organization mainly concentrates on enhancing education and economic opportunities for young African-American men and women through engagement and mentorship programs, the impact they are making in our community goes beyond that.
The organization has successfully lobbied for Black history to remain in the Texas school curriculum; they have fundraised and built nearly 100 bikes to give to children in foster care in the East side of Austin for Christmas. To help ensure our community's voices were heard during last year's critical election year, they created a direct mail campaign to register 20,000 new voters who were people of color. On Election Day, they even partnered with Alpha Phi Alpha Fraternity to provide chairs for voters. 
As the issues our neighbors face change, 100 Black Men has shifted their efforts to help where they're needed.
 "COVID-19, unemployment, and knowing that all families were suffering made us pivot our initiatives in 2020.  We went from mentoring to providing resources to the community," 100 Black Men President Karl Spencer said.
 With rising food insecurity caused by the pandemic, the group knew they needed to step in. In lieu of volunteering, they made a $2,000 donation during the holidays to help ensure families gathered around a full holiday table.  
"Access to healthy food is a social determinant of health. The health and wellness of the community is important to us, and fighting hunger is a major component of that," 100 Black Men of Austin Vice President of Health and Wellness Drew Thomas said. 
Their generous gift has only been the beginning of our partnership with this unbelievable group of leaders. This year, they joined us during our MLK Week of service to honor and celebrate the legacy of Martin Luther King Jr. We were excited to show them their donation dollars in action. In our warehouse, they helped inspect, sort and get food ready for distribution. 
With service being an essential part of the organization's mission, members are taking turns to volunteer with us in the coming months. Thank you for helping us provide nourishing meals to help our most vulnerable neighbors thrive. We're proud to partner with 100 Black Men of Austin to help uplift our community.  
"As someone who needed a helping hand at various moments throughout life. Giving back means living with integrity, honoring those who helped put me in the position to give back in the first place," Drew said.