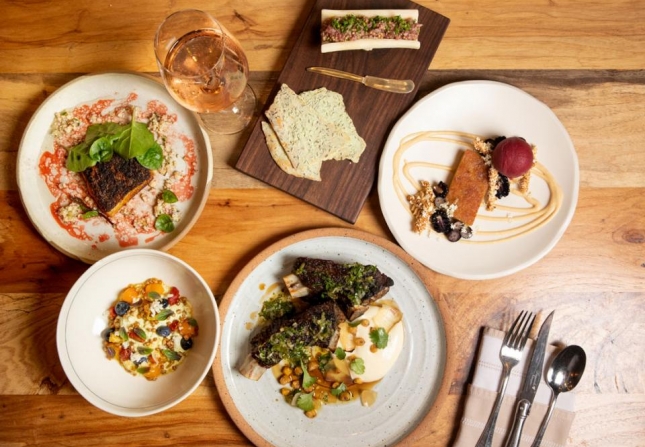 Back for a second year, Austin Restaurant Weeks, presented by Tito's® Handmade Vodka, raised an amazing number of meals for the Central Texas Food Bank. Final donation numbers are still coming in, but so far the event has raised $146,693.
The two-week dining attraction was bigger and better this year with more eateries joining the fight against hunger. One-hundred and twenty restaurants, bars and breweries came together to offer lunch, brunch, dinner and drink specials with a portion of the cost of each meal or drink going to the Food Bank.
Last year the event raised $137,408, providing nearly 500,000 meals. With support from our community, this year's event raised more than 586,772 meals, far exceeding last year's total!
We can't thank everyone who dined out enough for making Austin Restaurant Weeks an incredible success. Thanks to you, we're able to help feed the one in seven Central Texans and one in five kids who don't know where their next meal will come from.
Special thanks to all the participating eateries, bars and breweries that provided special menus and drinks to make this a unique and exciting dining experience for guests.
The event wouldn't have been possible without the return of the presenting sponsor: Tito's Handmade Vodka. Thank you for your ongoing support to help us feed families in need. We couldn't do it without your help.
In addition to Tito's Handmade Vodka, this year's sponsors included Delta Air Lines, Bank of America, Becker Vineyards, Edible Austin, Bell's Brewery, Domain NORTHSIDE, OpenTable, The Austin Chronicle, CultureMap, W. Hamilton & Company LLC. and Fairmont Hotel. Thank you for helping us fight hunger in Central Texas.
Austin Restaurant Weeks is a big undertaking and it takes the help of many members of our community to make it happen. Thanks to all of the supporting partners —ProductionFor, ScreamerCo., Reagan Outdoor Advertising, Farmhouse Delivery, Honey Bear Digital, Dutch Small and Yelp! — for your help in making the event possible.
With this year's Austin Restaurant Weeks wrapped up, we can't wait to dine out next year. Thank you to everyone who made it a success!