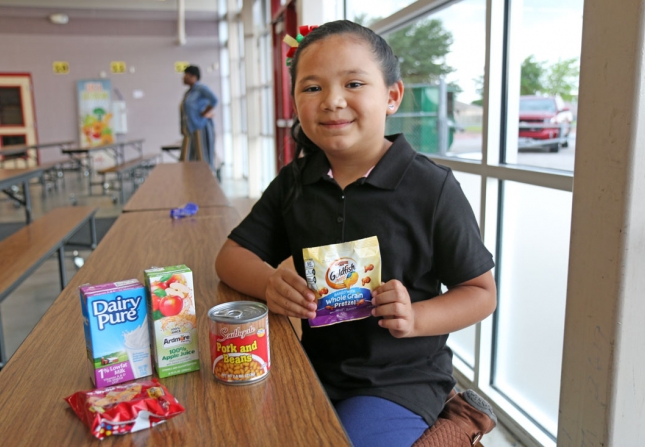 Six-year-old Camila likes unicorns, playing on the swings and reading about Snow White. After spending the day learning in school, she heads to her after-school program. There she gets to play with her friends, do her homework and get a nourishing meal from the Food Bank.
Each day, a Food Bank employee delivers Kids Cafe® meals to kids like Camila across Central Texas. The meals are made fresh in the Food Bank's kitchen every day to meet kids' nutritional needs.
Before Camila leaves her after-school program on Fridays she receives a "BackPack", a bag full of non-perishable food and snacks she can open on her own to help keep her nourished over the weekend.
"I do like them because it has food in it so we can have more food," Camila said.
During the summer break, kids like Camila can also go to one of the Food Bank's summer meal distribution sites to get breakfast, snacks and lunch.  
With one in five Central Texas kids facing hunger, the Food Bank strives to ensure that kids in need are nourished when they need it most. Last year, our children's programs served more than 200,000 kids across Central Texas.  
"It is important because it is hard for children to have food in the house," Camila said.
Camila hopes to be a doctor one day, but without access to nourishing meals making her dream come true will be even harder. Kids in need should not have to worry about their next meal.
We need your help during Amplify Austin to ensure kids like Camila have a chance for a brighter future. Your gift will provide healthy meals to Central Texas children at risk of hunger.
Mark your calendar for Amplify Austin, from 6 p.m. on March 5 to 6 p.m. on March 6. Though the 24-hour Day of Giving isn't until March, you can make your donation early to make a difference now.
To help kick off Amplify Austin, former Food Bank President and CEO Hank Perrett will provide a $10,000 match, but there's a catch—we need to raise $10,000 before midnight on March 4 to unlock his match.
Your most generous gift today will help us secure Hank's match and help feed Austin's future.