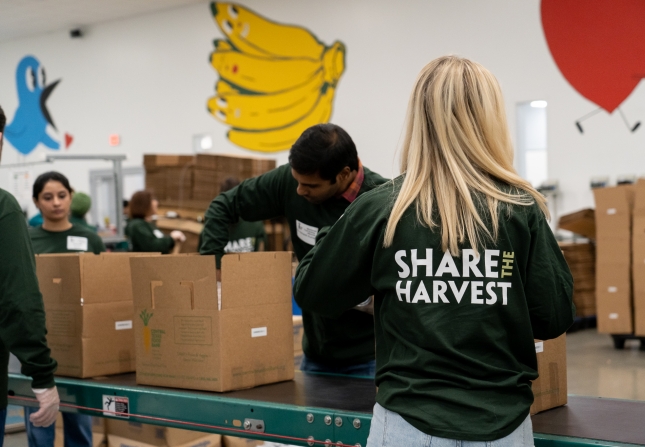 The spirit of giving is a pillar of our community, especially during the holiday season. If you're looking for ways to give back this month, we've got you covered. Here are just a few ways you and your loved ones can help make the holidays a little brighter for a family in need.
1. Gift a Donation in Honor of Your Loved One
Not sure what to give to that person in your life who has it all? Share your generosity with them by making a holiday gift in their honor. Thanks to the generosity of our community partner, the Beaumont Foundation, your gift will be DOUBLED when you give now through the end of the year. That means $25 will provide 200 meals for Central Texas families in need! Donate today.
2. Order Holiday Cards
Look no further for those perfect Holiday Cards to send to family and friends this year! When you order Central Texas Food Bank Holiday Cards, your donation helps us get one step closer to ending hunger in our community. Share your commitment to the Food Bank's mission with your loved ones when you send them a festive card this month.
3. Shop Our Merch
Another way you share your passion for fighting hunger in Central Texas is by gifting some Food Bank swag! Order a 'Hunger Fighter' t-shirt or one of our reusable tote bags for your friends. We even have baby onesies!
4. Fundraise for the Holidays
Get your co-workers or social circle involved by starting your own Virtual Food Drive! Set a goal and encourage your friends to help you meet it. Get your co-workers into the spirit of giving by sharing your fundraiser with them. Celebrate the spirit of community and generosity when you get to your goal!
5. Shop Local, Give Local
Next time you stop by your local Whole Foods Market for those holiday groceries, help put another holiday meal on the table by rounding up at the register. All proceeds from the Shop Local, Give Local campaign benefit local food banks, like the Central Texas Food Bank, through Feeding America.
6. Trail of Lights
When you're bundling up to get ready for your Trail of Lights walk-through, be sure to grab those food donations to bring with you. Drop them off at the entrance before you enjoy the twinkling lights at Zilker Park. If you're not sure what you can bring, you can head to our website to learn more.
7. Resolution Fit Race
Calling all runners! Start your year off strong with a Half Marathon or 5K race at Lake Pflugerville! 2023's USA Fit Resolution Race will feature New Year's themed festivities and will once again benefit the Central Texas Food Bank. Register today and help make sure families are able to start their year off right with nutritious meals.
8. Donate Goods Through Instacart
Want to donate items to the Food Bank but don't have time to drop them off? Add some items to donate to the Food bank on your next Instacart order! This holiday season, Instacart and Feeding America have teamed up to create Community Carts! With Community Carts, you can choose what items to donate and have everything delivered straight to us from wherever you are.