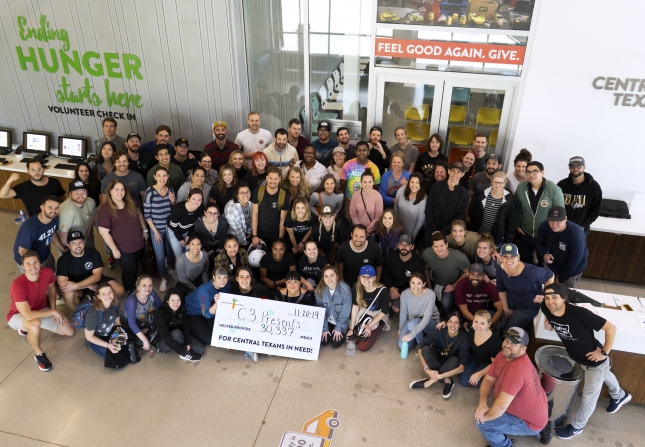 With the start of a new year, we can't help but look back at everything we accomplished with the help from our volunteers.
Last fiscal year, 33,929 volunteers donated 164,736 hours in our warehouse, garden, kitchen, Mobile Food Pantries and in our office. Thanks to their hard work, passion and dedication, we were able to distribute more than 52 million pounds of food. Our volunteers are incredible!
With thousands of food donations coming through our doors, we couldn't get food out in time without help from volunteers in our product recovery warehouse. Last year, we had 26,152 volunteers in our warehouse donating 105,407 hours of service. Volunteers processed more than 5.8 million pounds of food.
While volunteers in our warehouse inspect and sort food donations, the volunteers in our kitchen work together to prepare meals for kids in need. Last year 3,899 volunteers donated 23,702 hours to help provide thousands of kids' meals.
For individuals looking for fresh air, volunteering in our garden was a great way to spend time outdoors while helping grow organic produce for our neighbors in need. Last year, 903 garden volunteers donated 2,736 hours and helped grow 14,846 pounds of produce. We were able to provide 64,076 MyPlate servings with their help.
Thanks to volunteers, we were able to run 618 Mobile Food Pantry distributions across 19 Central Texas counties.  Last year, 4,771 volunteers donated 23,291 hours to help put food into the hands of families in need.
With more than 600 fundraisers and events benefiting the Food Bank each year, our volunteer ambassadors are essential to help spread awareness in our community. Last year, they volunteered 189 hours to attend speaking engagements and events to raise funds and build awareness about hunger and the work the Food Bank does.
Additionally, Food Bank staff received help from administrative volunteers. Last year they donated 728 hours of service, supporting our staff with data entry, mailouts and paperwork.
We would also like to recognize our top youth and community groups: University of Texas, Young Men's Service League, National Charity League, Regents School of Austin, Austin ISD, Church of Jesus Christ of Latter Day Saints, St Stephen's Episcopal School, Texas State University, Hyde Park Schools and Austin Chinese American Network.
Special thanks to our top corporate groups: Dell, VMware, Oracle, Whole Foods Market, Samsung, Texas Mutual, National Instruments, IBM, Apple and General Motors.                                      
We're so grateful for all of our volunteers who make our day-to-day work possible. We couldn't fight hunger without you. Thank you for making it an amazing year!