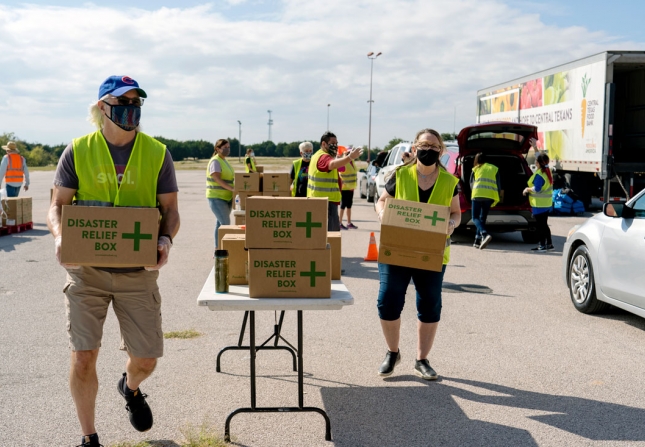 From job disruptions to business closures, the pandemic has been hard for Central Texas families. Many are turning to the Food Bank for the first time. For families already struggling to put food on the table, the holidays can be even tougher. But you can make a difference this holiday season. Here's how:

1. Make a holiday gift in honor of your loved one. It's the perfect gift for someone who has everything. Thanks to generous matching donors, for every $10 you donate, you can provide 80 meals for your Central Texas neighbors this holiday season.
Make your donation today!

2. Picking up groceries for your holiday meal? Help families gather around a full table when you shop at Sprouts Farmers Market through December 31. During their Grab 'N Give food drive, you can purchase a pre-packed bag with nutritious food to donate to the Food Bank. 

3. Crate & Barrel makes it easy to help families this holiday season while you check off your holiday shopping list. From now until December 31, you can donate to the Food Bank at the register or as you check out online. All proceeds will help feed families in need in Central Texas.

4. Let your friends and family know how passionate you are about fighting hunger with a Fight Hunger Food Bank t-shirt. For every t-shirt sold, we can provide 100 meals for our neighbors in need. Get yours today.

Let us mark one thing off your list with Central Texas Food Bank Holiday Cards. Let your loved ones know you've made a donation on their behalf and spread the spirit of generosity. Order your holiday cards here.

5. Get your hands on one-of-a-kind gifts from Austin Empty Bowl Project. Due to the pandemic, they're going virtual this year. Starting November 8, you can check out their online store, virtual silent auction and live virtual concert. A portion of the proceeds will help nourish kids through our Kids Cafe® Program. Check out all the details here.

6. Fill your pantry and help fill a family's when you shop at Wheatsivlle Co-op during November. It's easy. Round up your purchase at the register and donate the extra change to the Food Bank. Everything helps! 

7. Make an impact on hunger when you use Target Circle, the retail store's customer loyalty program. Cast your ballot for the Food Bank on Target Circle to direct Target grant donations to fight hunger. Vote for the Food Bank here.

8. Put smiles on the faces of that special someone and a family in need when you purchase a gift through Amazon Smile. When you purchase your gift through Amazon Smile, Amazon will donate 0.5 percent of the purchase price on eligible items to the Food Bank.

9. Help feed families in need when you round up your purchase at the register at Central Texas CVS Pharmacies through December 31. Any spare change helps provide essential meals for families affected by the pandemic.

10. Celebrate the holidays with a bottle of Joel Gott wine. Every bottle purchased helps fight hunger in our community. A portion of the proceeds from each bottle is donated to the Food Bank.