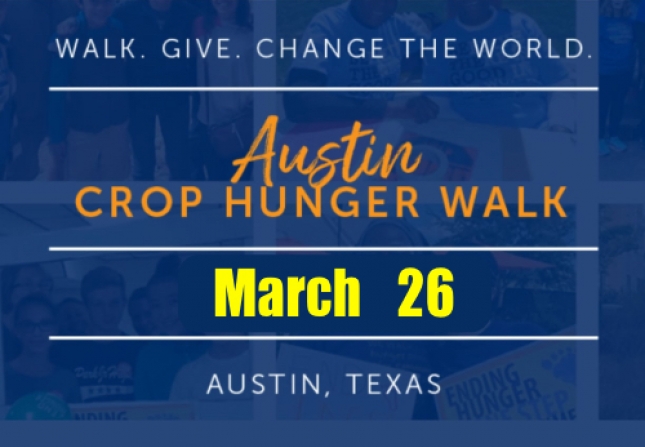 Walk. Give. Change the World.
Sponsored by Church World Service, CROP Hunger Walks have raised money for hunger relief efforts locally, nationally and globally since 1970. The Central Texas Food Bank is proud to be a longstanding beneficiary of the Austin CROP Hunger Walk, the largest inter-religious event in the city. For over 30 years people from all over Austin have come together to walk and raise money for local, national and international projects. The Food Bank is one of four local beneficiaries of the event which also includes Refugee Services of Texas, Sustainable Food Center, Manos de Cristo, Austin City Lutherans – Bread for All Food Pantry, Hope Food Pantry Austin and Mt. Olive Baptist Church.
For more information, please visit http://austincrophungerwalk.org/
This year's walk will be hybrid! We hope you will join us at Camp Mabry, but if a different spot is better for you and your team, we understand! 
Walk Wherever You Want
You can walk (or run or skip or jump or trot or ? ) wherever you want to:
in your neighborhood
in your backyard
on a trail
in the park
or even on the treadmill!
For more information and to view sample walking routes, please visit http://austincrophungerwalk.org/.
Camp Mabry
2200 W 35th St
Austin, TX 78703
United States